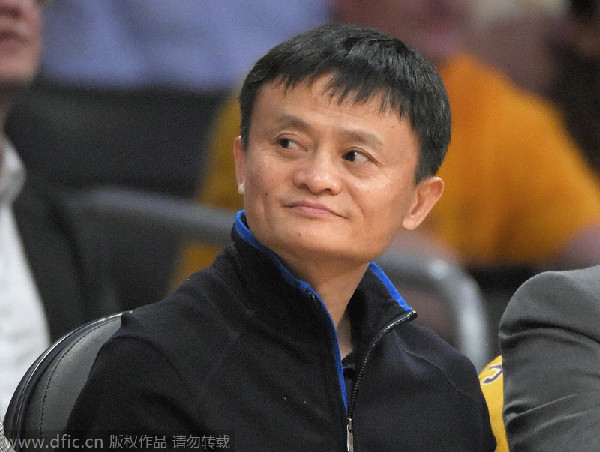 Jack Ma, founder and executive chairman of Alibaba Group, watches NBA basketball game in Los Angeles, Oct 28, 2014. [Photo/IC]
Billionaire Jack Ma apologized for calling Chinese e-commerce rival JD.com Inc a "tragedy", saying he was sorry for causing the company trouble by "putting it all out there".
Alibaba Group Holding Ltd founder and chairman said on his personal Weibo account that JD had his blessings after criticisms of its business model were published last month in a Chinese-language book. Ma said he had a habit of making "crazy" and "stupid" boasts and did not expect that such private comments among friends would be made public. He made no mention of another passage in the book quoting Ma as faulting strategic moves by Tencent Holdings Ltd.
The apology shows the increased scrutiny Ma is under since Alibaba's record-breaking $25 billion initial public offering in September, which helped make him Asia's richest man.
"Ma Yun probably apologized because Alibaba is now a public company and he needs to be more careful," You Na, an analyst at ICBC International Research Ltd, said in Hong Kong, using Ma's Chinese name. "He will probably tone down and become more aware of his words going forward."
JD responded by posting a poem on Tencent's WeChat messaging app, saying it would try to be better and let time be the judge.
Josh Gartner, a Beijing-based spokesman for JD, said in a text message: "We are aware that a competitor made critical comments about JD and has since apologized. We accept that apology and we continue to be focused on providing China's best online retail experience."
Ma apologized after passages from the book by Fang Xingdong and Liu Wei - the title of which translates roughly to Alibaba, the Real Story - circulated on social media sites.
In one, Ma criticized JD's business model, which involves holding inventory like Amazon.com Inc, whereas Alibaba runs platforms that connect buyers and sellers through sites like Taobao and Tmall.
"JD will become a tragedy, I reminded everyone of this tragedy from the first day," Ma said, according to one passage posted on the Chinese news portal Sina. "It is an issue of direction, there is nothing you can do about this ... So, I tell people at the company, definitely do not get involved with JD. Don't come blaming us if you die one day."
The book also quotes Ma as criticizing moves by Tencent - Asia's second-largest Internet company - for injecting assets into some partners such as JD. Those efforts did not amount to a long-term strategy, he said.
"In China today, strategy helps you win and we are much better than Tencent in that regard," Ma said, according to the book. "Today WeChat is working with JD and it is even more stupid."
Alibaba declined in an e-mailed statement to make any additional comments on the book passages. Canny Lo, a Shenzhen-based spokeswoman for Tencent, did not respond to an e-mail or a text message seeking delete comment.