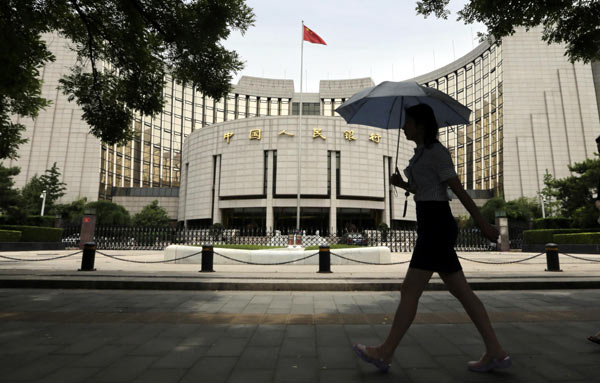 A woman walks past the headquarters of the People's Bank of China (PBOC), the central bank, in Beijing, in this file picture taken June 21, 2013. [Photo/Agencies]
BEIJING - China's central bank on Friday said it will continue with its prudent monetary policies in 2015 with better coordination of tight and loose monetary measures and proper fine-tuning.
The central bank will adapt to China's economic "new normal" of slower growth but higher quality and highlight industrial transformation and restructuring, said the People's Bank of China (PBOC) at a meeting on its work in 2015.
The central bank will strengthen support for the real economy and cut fund-raising costs, said a statement on the PBOC website.
Zeng Gang, researcher with Chinese Academy of Social Sciences, said monetary policy should support the real economy and structural adjustment amid increasing downward pressure.He expects more liquidity in 2015.
The growth of M2, a broad measure of money supply that covers cash in circulation and all deposits, slowed to 12.3 percent on a year-on-year basis by the end of November.
"Economic growth can not rely on money supply," Guo Tianyong, professor of Central University of Finance and Economics, "but policies with better coordination of tight and loose measures can stabilize the economy."
The meeting said various tools should be used flexibly to maintain the reasonably rich liquidity in the bank system.
The PBOC implemented new tools to tackle changing situations in 2014, including Medium-term Lending Facility (MLF) and Pledged Supplementary Lending (PSL).
The new tools are more flexible and targeted to ensure sufficient liquidity, support the real economy and facilitate structural adjustment, Zeng said. Traditional measures like adjustment in interest rates and reserve requirement ratio (RRR) still remain an option.
The central bank lowered interest rates in November, fanning speculation on further moves, including RRR cuts.
The PBOC said lending and private financing should grow in a steady and moderate way. Macro-control measures in a targeted approach will be continued and lending support will be given to key or vulnerable links.
The meeting also reiterated the establishment of a bank deposit insurance scheme.
Zhao Xijun, deputy director of Finance and Securities Institute under Renmin University of China, expects the scheme to be carried out this year and lower risks while improving banks' capacity to serve the real economy.
In addition, the meeting said financial reforms will be boosted, including reforms on interest rates, the yuan exchange rate formation system and foreign exchange management. And more efforts will be spent on promotion of cross-border use of the yuan.