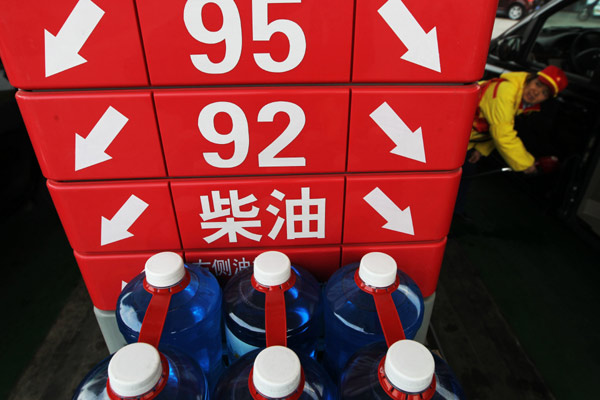 A worker refuels vehicles at a gas station in Nantong, Jiangsu province. In 2014, gasoline prices dropped 2,050 yuan per ton, or 1.54 yuan a liter, while diesel prices fell 2,205 yuan a ton, or 1.89 yuan a liter after adjustments. [Xu Congjun / for China Daily]
Sinking global crude oil costs continue feeding through to domestic drivers at the pump
With global crude prices having plunged below $50 per barrel as the year began, domestic retail fuel prices are scheduled to be cut again on Monday, energy consultancies have forecast.
The reductions will be the 12th in a row.
The National Development and Reform Commission, the top economic planner, is expected to reduce retail fuel prices by approximately 350 yuan ($56.51) a metric ton, or 0.26 yuan per liter of gasoline and 0.3 yuan per liter of diesel, according to ICIS C1 Energy, a Shanghai-based energy information consultancy.
The price is calculated based on China's retail oil pricing mechanism, which is linked to world oil price changes.
After next week's reduction, gasoline prices at the pump will be about 5 yuan a liter in major markets, a level last seen in August 2009 when the world was in the grips of a financial crisis and economic slump.
Simultaneously with the past two fuel price cuts, which took place in late 2014, the government raised the fuel consumption tax to 1.4 yuan per liter.
Li Li, research and strategy director at C1 Energy, said it is unlikely to raise the consumption tax again this time because the tax is already at an appropriate level. And Liang Dan, an analyst with the consultancy, said that retail fuel prices will continue to fall.
Gasoline prices dropped 2,050 yuan per ton last year, or 1.54 yuan a liter, while diesel prices fell 2,205 yuan a ton, or 1.89 yuan a liter after adjustments, according to data consultancy firm Shandong Longzhong Information Technology Co.
The gasoline price averaged 8,480 yuan per ton in the second half of 2014, down 7.5 percent from the first half, while the diesel price averaged 7,304 yuan per ton in the second half, down 7.7 percent, according to Longzhong.
Observing the weak world oil market, many investment banks have lowered their forecasts for crude prices for 2015.
Li Yan, an analyst with Longzhong, said considering Saudi Arabia's determination to maintain output levels, the international crude price is set to fall this year.
Lower crude prices are prompting refineries to increase inventories, but lower retail prices will affect their profits, said Li Wan, an analyst at JYD Online Corp, a Beijing-based bulk commodity consultancy.
End users will benefit the most, especially logistics companies.
Fuel costs for a delivery truck will drop by 1,505 yuan per 10,000 kilometers.