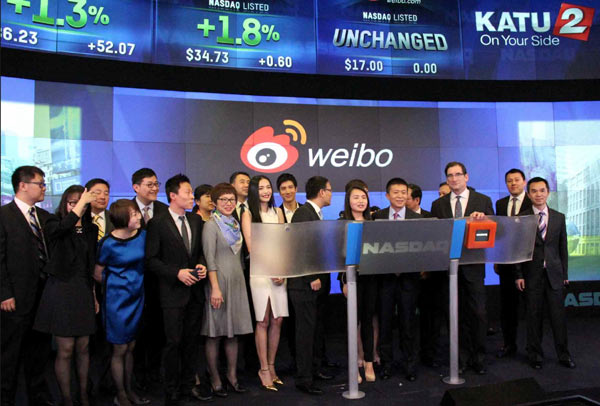 The shares of Weibo Corp gained strongly in their Nasdaq debut on Thursday. However, the IPO valued Weibo at about $3.3 billion, far below the initial estimate of about $8 billion. [Photo / Provided to China Daily]
Weibo, the United States-listed Chinese social media platform, said it expects to open its integrated payment function to registered users by the end of June.
The move, announced on Thursday by a company that has been dubbed the "Chinese Twitter", could be an important one in terms of the Beijing-based company's monetization strategy, analysts said.
The company said that all its registered users, whether they are individual accounts or official accounts of companies, can get access to Weibo Payment, which allows parties to sell products to followers.
"With the integrated payment function, we aim to build a 'closed loop' in marketing and develop Weibo into the world's most effective social commerce platform," said Bryan Cheng, Weibo's product manager.
According to Cheng, some of the companies that have used Weibo as a marketing channel found it difficult to seal the deal with potential customers because, lacking an integrated payment system, most people eventually give up on ordering.
With the integrated payment platform — which was co-developed by Weibo and Alipay, the e-payment arm of China's e-commerce conglomerate Alibaba Group Holding Ltd — micro-bloggers can buy products that are posted by their friends in four quick steps.
The payment venture jointly announced by Weibo and Alipay in January followed Alibaba's $586 million purchase of an 18 percent stake in Weibo last April.
The team-up of the two companies makes it possible for people to log into Weibo from their accounts on Taobao, the customer-to-customer platform of Hangzhou-based Alibaba.
Cheng said more than 23 million users have connected Weibo accounts with their individual Taobao accounts. "Almost all Taobao users use Alipay, which means that Weibo Payment has the potential to reach at least 23 million users," he said.
Weibo, which went public in the US in April, reported that at the end of March, its daily active users list totaled more than 60 million people, up 37 percent year-on-year."
How to turn this traffic and its huge user base into cash is important for Weibo," said Qian Haili, an analyst with Hangzhou-based China E-commerce Research Center. "To integrate Alipay into Weibo's system can transform it from a marketing channel into an e-commerce platform, which is key to the company's monetization."
According to Weibo's financial report, its revenue in the first quarter jumped 161 percent year-on-year to $67.5 million. However, the company is still in the red with a loss of $47.4 million in the first quarter.
Lin Wenbin, an analyst with IT consultancy Analysys International, agreed with Qian, saying that apart from monetization, launching an in-house payment system will also help Weibo to better compete with Tencent's WeChat, a messaging app with more than 500 million subscribers in China.
WeChat launched an integrated payment function last year that drew the attention of Alibaba.
The function allowed WeChat to expand into mobile e-commerce, an emerging market widely viewed as the future of e-commerce. Earlier this month, WeChat made it possible for small and medium-sized merchants to open stores with the app.
Compared with WeChat, which is mostly a messaging application for friends, Weibo is a more social and open environment, Qian said.
"That means Weibo can be a better tool in marketing. So companies can do their branding, marketing, sales and after-sales all on Weibo's system. But achieving a balance between sales and promotional information, and the information that people enjoy getting on Weibo is tricky. If Weibo becomes too commercial, it may hurt user loyalty," she said.