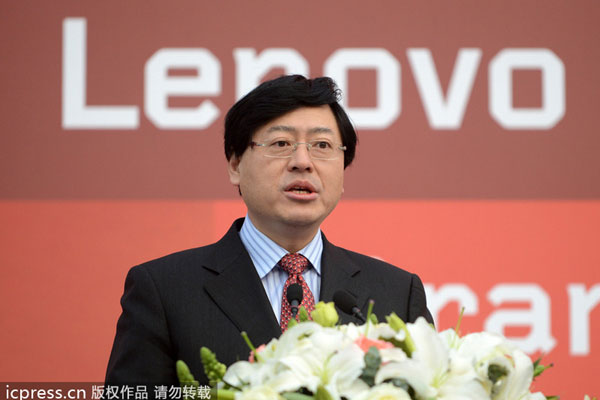 Yang Yuanqing, CEO of
Lenovo
, China's leading computer firm, Dec 19, 2013. [Photo/icpress.cn]
Lenovo Group Ltd, the world's largest maker of personal computers, posted a net profit of $265 million for its third fiscal quarter ending on Dec 31, a year-on-year increase of 30 percent.
The company's shares traded on Hong Kong's stock exchange demonstrated a flat performance in the morning, standing at HK$8.64 per share at 11:30 am, down 0.46 percent.
Lenovo said its quarterly revenue reached $10.8 billion, a 15 percent year-on-year increase, passing the $10 billion milestone for the first time ever. The company shipped a record 32.6 million devices in the quarter or nearly five devices every second, according to a statement from the company on Thursday morning.
Lenovo attributed the record performance to a strong global plan, an innovative product portfolio and an increasing mix of PC Plus revenues.
PC business still held a dominant position in the company's overall sales. Lenovo's PC shipments for the third fiscal quarter were 15.3 million units, or 18.5 percent of the world's market share in the period. It was also the highest-ever quarterly market share for Lenovo. The company had been the world's largest PC vendor for the third straight quarter, according to research firm IDC.
Also for a third straight quarter, Lenovo's combined shipments of smartphones and tablets — 17.3 million devices — surpassed the 15.3 million PCs it sold. It also continued to be the world's fourth-largest smartphone supplier with 4.8 percent share, growing shipments 47 percent year-on-year.
Lenovo's recently announced investment in Motorola Mobility is in line with the company's ambition to become a top 3 smartphone maker globally.
"A range of cost saving and scaling opportunities, the iconic Motorola brand and the opportunity to expand Motorola's global reach will quickly place this business on a path to tangible success," the company said.