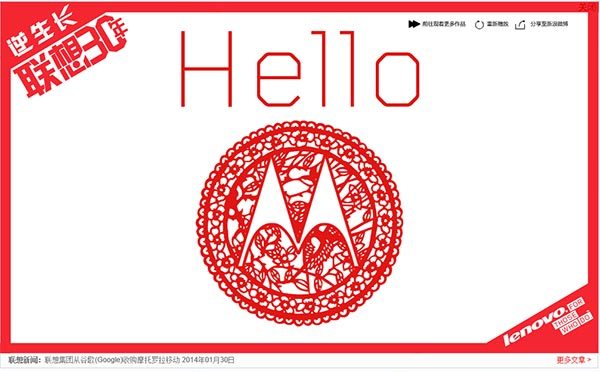 A "Hello Motorola" banner is seen on Lenovo's webiste on Jan 30, 2014. [Photo/chinadaily.com.cn]
Lenovo Group Ltd's purchase of the Motorola Mobility business, a money-losing subsidiary owned by Google Inc, will give the Chinese company advantages in exploring the global tablet and smartphone markets, analysts said.
The comments came after Lenovo said that it will announce a "major acquisition deal" on Thursday.
The deal, worth at least $2 billion, will include a large volume of mobile communications patents currently held by the US company, a person familiar with the matter told China Daily.
Lenovo declined to comment on Wednesday, saying only that details would be disclosed the following day.
The deal comes just one week after the Beijing-based company said it would buy IBM Corp's x86 server unit for $2.3 billion.
Shares of Lenovo rose 4.6 percent in Hong Kong to HK$10.96 ($1.40) on Wednesday, the highest level since mid-2000.
"Motorola will enable Lenovo to close the gap between Apple Inc and Samsung Electronics Co in the mobile intelligent devices sector," said Antonio Wang, associate director and project leader for IDC China's client system research department.
"The acquisition will help Lenovo clinch the position as the third-largest smartphone vendor worldwide," Wang added.
Lenovo could make good use of Motorola's patent rights when exploring overseas markets. Motorola is the biggest holder of mobile communication patents, according to IDC.
Motorola has about 17,000 patents, a valuable resource for an emerging brand to explore developed markets, said Wang.
Google, which also owns the popular smartphone operating system Android, acquired Motorola Mobility in 2011, spending about $12.5 billion.