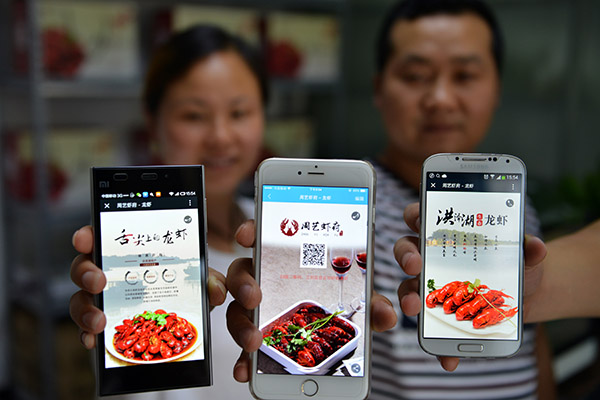 A couple running a catering startup in Huai'an, Jiangsu province, show the app through which they sell their products. [Photo/Xinhua]
China's current emphasis on entrepreneurship, innovation, automation, technology upgrading, think tanks and foreign talent suggests the share of services in China's GDP will likely grow progressively in coming years.
If China's GDP grows by 7 percent this year, which is the upper end of the government's target range, GDP would reach 72.4 trillion yuan ($11.1 trillion). Services could well contribute around 52 percent of it or about 37.5 trillion yuan.
That figure is presumed but probable-something China's enterprises, entrepreneurs, investors and aspiring business startup founders can ill-afford to ignore.
For, China's inexorable tilt toward services represents a massive opportunity to make full use of the country's 900 million workforce.
The signs are bright that the nation is intent on riding out the current challenging times by harnessing the full potential of services.
"The service sector as a proportion of GDP rose to 50.5 percent, accounting for more than half for the first time," Premier Li Keqiang informed the National People's Congress on Saturday.
Li told the NPC that "an average of 12,000 new businesses per day" were incorporated last year. About 75 percent of them were in services. And 90 percent of them were individuals' startups.
This year, commercial banks will be allowed on a trial basis to invest in startups and small businesses.
Li's report contained phrases like "crowd innovation, crowd support, crowdsourcing and crowdfunding". It is commendable the government is not averse to using the lingo of the ecosystem of startups and sharing economy in order to better relate to those who inhabit it.
Yet, the national effort would come unstuck if enough attention is not paid to potential risks.
The biggest risk would be lack of awareness of opportunities. Many prospective startup founders' experience in India, where even basic information could often prove elusive, is not irrelevant to China.
How to register and run a company? How many investors are out there? How to sell an idea? How to find the right investor (and steer clear of racketeers)? What are the various sources of funding? How to ensure a business proposal is kept confidential? How to enforce a non-disclosure agreement? How to clinch a fair term-sheet? When to expand?
Up-to-the-minute and exhaustive answers to such FAQs could well become part of the public domain in China, if Li's forward-looking report is any sign. I see scope for effective awareness campaigns that could proactively educate not just prospective entrepreneurs but even investors, such that everyone aligns with the government's larger goals.
However, efforts may be necessary to ensure the startup space does not become a playground for just a few wealthy, valuation- and lucrative exit-minded investors, and startups don't get concentrated in a few glamorous industries, or become synonymous with mobile apps and websites. Rural startups that could strengthen and empower farmers should also receive a legup-read easy bank loans.
The Indian government set up a startup fund recently. A startup called Tracxn that creates big data on the startup ecosystem, including China's, has received the backing of prominent investors.
China may want to go one step further and consider setting up a sovereign startup fund to encourage entrepreneurial-minded Chinese to strike out with similar people in other countries to found startups with a global scope.