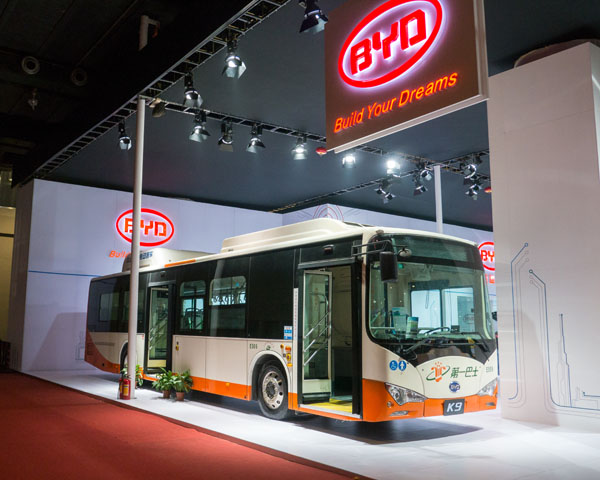 A BYD K9 on display at the 12th China (Guangzhou) International Automobile Exhibition, Nov 20, 2014 [Photo/VCG]
MONTEVIDEO - Uruguayan President Tabare Vazquez on Thursday presided over the unveiling of the country's first electric bus imported from China.
The Chinese-made vehicle, built by BYD, is set to join the city's fleet of public transit buses on Monday.
"Uruguay, as a pioneer in many areas, also has to make progress in this direction, because the future is electric," Vazquez told those attending the ceremony, including Industry Minister Carolina Cosse.
The bus will enter a two-year trial run, which if successful will lead to the incorporation of more electric vehicles in the city's transportation system, Uruguayan daily El Pais reported.
The fully electric bus "is very important for the protection of the environment and offers users better amenities," said Vazquez, adding the vehicle "cuts down on noise pollution, and saves energy and operating costs."
BYD's K9 model can accommodate up to 50 passengers, run for 125 km on a half-hour battery charge, and up to 250 km on a full charge, which takes about six hours.
In addition to offering residents a cleaner and quieter way to get around their city, electric vehicles may eventually help them save money, according to CUTCSA, the city's largest transportation firm.
"We think it's also an important step towards being able to reduce the price of a ticket," said CUTCSA President Juan Salgado.
During the ceremony, Vazquez, accompanied by other officials, boarded the bus for a brief tour.
Cosse noted the BYD bus consumes "a third of the energy" consumed by a bus that runs on gasoline.
On Wednesday, Chile's capital Santiago unveiled its first electric bus, also a BYD K9.
BYD, which stands for Build Your Dreams, is the world's largest manufacturer of rechargeable batteries, according to the company's website.