Ford China to have new boss following carmaker's top leadership reshuffle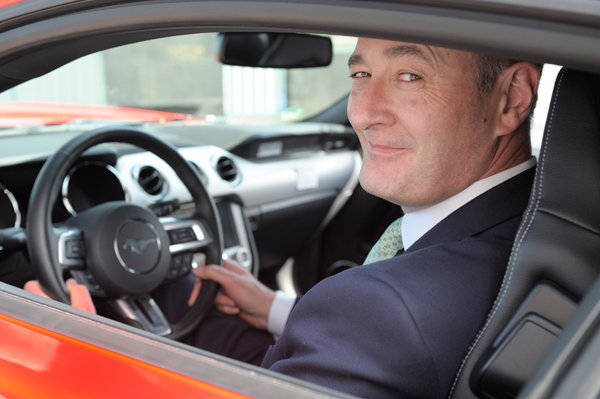 Peter Fleet has been appointed to lead Ford operations in China. [Photo provided to chinadaily.com.cn]
Peter Fleet has been appointed chairman and CEO of Ford China to lead the US carmaker's operations in the world's largest auto market, according to the company.
Fleet, 50, will be in charge of Ford China's business: Lincoln, Ford imports, as well as Ford's passenger car joint venture, Changan Ford, and investment with Jiangling Motors Corporation.
Ford and its joint ventures sold nearly 94,000 cars last month in China, 11 percent more than the same month last year. Overall, their China sales in the first four months totaled 349,228 units.
Fleet will also succeed Dave Schoch, 66, as president of Ford Asia Pacific to lead all of Ford's operations and partnerships in the region. His appointment will be effective starting July 1. Fleet previously served as vice-president of Ford Asia Pacific for marketing, sales and service.
Schoch, as part of the previously planned organizational change, has announced his intention to retire, after 40 years with Ford. The 66-year old has led the company's Asia-Pacific operations for the past five years during the biggest and most aggressive expansion within the region in Ford's history.
"Dave has been a fantastic leader and a role model for many at Ford during his four decades in the company," said Jim Hackett, who replaced Mark Fields as Ford President and CEO earlier this week, after a 40 percent stock price fall during Fields' three year tenure.
"Over the past five years, Dave has been a key architect of our tremendous growth in China, and overall success in Asia Pacific."
Ford China's leadership change is part of the US automaker's management overhaul worldwide.
Among others, Raj Nair has been appointed to lead Ford North America, Steven Armstrong will lead Ford of Europe, Middle East and Africa and Sherif Marakby has been appointed to the newly created position of vice-president responsible for autonomous vehicles and electrification.
"The leadership changes we are announcing today across our global business are important as we foster even greater teamwork, accountability and nimble decision-making," said Hackett.
According to the company, the major tasks faced by Hackett and Ford Executive Chairman Bill Ford include sharpening operational execution, while decisively addressing underperforming parts of the business; modernizing the automaker's business; and transforming to meet future challenges.
Bill Ford said, "We're moving from a position of strength to transform Ford for the future. Jim Hackett is the right CEO to lead Ford during this transformative period for the auto industry and the broader mobility space."
In the first quarter of 2017, Ford's net profit stood at $1.6 billion, a 35 percent fall from $2.5 billion a year earlier, and sales slipped 5.1 percent in the first four months of the year.