Ford China sales rebound after slow start to year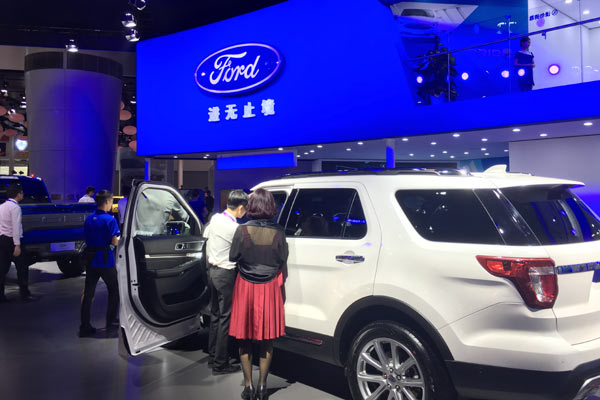 Visitors examine a Ford SUV at the Guangzhou auto show in November 2016. [Li Fusheng/China Daily]
Ford and its joint ventures sold nearly 94,000 cars last month in China, 11 percent more than the same month last year.
Overall, their China sales in the first four months totaled 349,228 units, down 12 percent from the same period last year.
The sales decline, which many international carmakers have seen in China, is largely due to the reduction of a purchase tax incentive which stimulated too much consumption last year, according to analysts.
Peter Fleet, vice-president of Ford Asia Pacific, said the Chinese market is showing signs of rebounding and expects Ford's growth momentum will continue.
Of Ford's April sales, Changan Ford contributed the most, with 62,382 units sold, up 6 percent from the same month last year.
The company said most of its sedans, including Focus, Escort, Mondeo and Taurus, saw their sales grow 10 percent year-on-year, and SUVs continued their popularity, with the sales of Edge up 19 percent.
Another joint venture, Jiangling Motors, delivered 25,404 cars in the month, up 15 percent.
Ford's premium brand Lincoln saw the fastest growth. It sold 4,533 cars in the month, almost doubling sales in April 2016.
The figure has brought Lincoln's sales to 16,264 cars in the first fourth months of the year. Lincoln was the fastest-growing premium car brand in the Chinese market in 2016.
Based on its success, Lincoln announced in March plans to build its first China-made SUV by late 2019. Lincoln said the model will be sold exclusively on the Chinese market, and will continue to import vehicles for Chinese customers.