Automakers post massive profit growth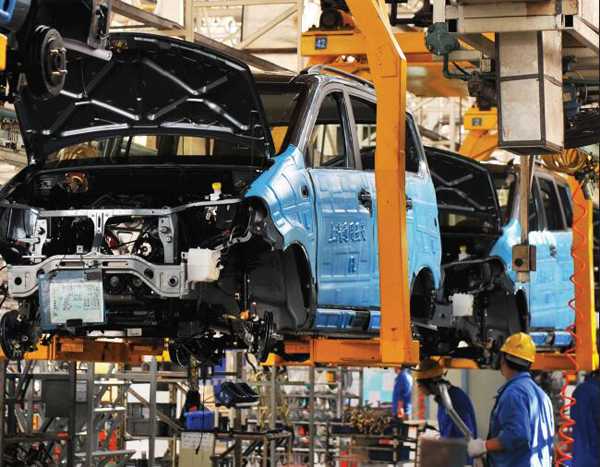 Workers assemble car bodies at a SAIC Motor plant in Liuzhou, Guangxi Zhuang autonomous region. [Photo/Xinhua]
Automakers post massive profit growth Sales volumes, successful strategies boost Chinese car manufacturers' margins, Hao Yan reports.
The majority of China's publicly listed carmakers witnessed a leap in their profit margins last year, boosted by large sales volumes and higher pricing strategies linked to fresh lineups.
Major automakers that have listed on the Chinese A-share market and Hong Kong Stock Exchange announced their preliminary results in recent weeks. Among them, State-owned SAIC Motor netted the largest profits, while Geely Automobile's more than doubled.
The top three most profitable companies, which bagged over 10 billion yuan ($1.46 billion), are SAIC Motor, State-owned China Chang'an Automobile Group's listed arm Chongqing Chang'an Automobile, and Great Wall Motor.
Industrial insiders saw the large sales volumes as the main engine driving this profitability, because the effects of economies of scale are significant in the car manufacturing industry.
"The backbone is the volume. A carmaker's assets remain stable day to day, and the research and development investment has already been paid. So the more products they sell, the more they earn," a senior automobile analyst at a securities firm, who requested not to be named, told China Daily.
SAIC Motor said its net profit jumped 7.5 percent year-on-year to 32 billion yuan, attributing its earnings growth to a sales volume expansion of 9.95 percent-to 6.5 million vehicles-in 2016.
The analyst said: "SAIC had a very large base last year, so a single-digit growth in net profit is significant. Smaller ones, including Geely and Great Wall, find it easier to achieve much higher growth rates."
The similar economy scales could also be found in Geely Automobile Holdings and Beijing Automotive Group Co's listed BAIC Motor Corp.
Geely Automobile is expecting the net profit more than double from the 2.26 billion yuan in 2015, which would be exceeding 4.5 billion yuan, according to the calculation.
BAIC Motor predicted above 90 percent surge in net profit thanks to the 35.6 percent sales growth in BAIC-branded vehicles, a 26.7 percent jump in the Mercedes-Benz brand, and a 7.45 percent expansion in Hyundai brand.
Deutsche Bank Group estimated BAIC Motor's net profit for 2016 would exceed 6.3 billion yuan, far beyond the bank's forecast for a 20 percent growth rate.
Serving as a negative example of the economy of scale theory, First Automotive Works Group Corp's listed arm FAW Car Co is the only major player announced a deficit in 2016.
The Jilin-based carmaker has nearly 18 percent lower sales than the 193,500 units volume in 2015.
Besides the significant influence on profit brought by sales volume, both of Geely and BAIC Motor also attributed the profit achievements in the refreshed product line-ups.
The analyst echoed that product portfolios play a leading role in attracting Chinese customers to make the purchase decision.
He said the new products, especially the popular sport utility vehicles, are widely accepted for the latest technologies, trendy silhouette and designs. On the other hand, these newly launched models pushed up the retail prices that resulting in higher profit margins.
Geely also leveraged a cost advantage through its platform sharing strategies. It divides the dealerships into A and B streams, and supplies them with slightly different products.
For example, Geely Emgrand Boyue and Vision X6 are sister products with the exquisite Emgrand Boyue positioned a bit higher than Vision X6.
The two models share R&D investment, but are provided to the two streams of the dealers for larger market shares, according to an automobile analysts familiar with Geely.
The pricing strategies and utilization of productivity are among the many factors influencing a car manufacturer's profitability, according to securities firms' analysts on auto industry.
Many automakers have expanded SUV line-ups for affluent profit, as the vehicles are usually developed from sedan platforms that incurring no magnificent investments, but larger numbers on the price stickers of the SUVs are accepted by the buyers. Dongfeng Automobile Co, the listed arm of the State-owned giant Dongfeng Motor Corp, did not announce its preliminary result.