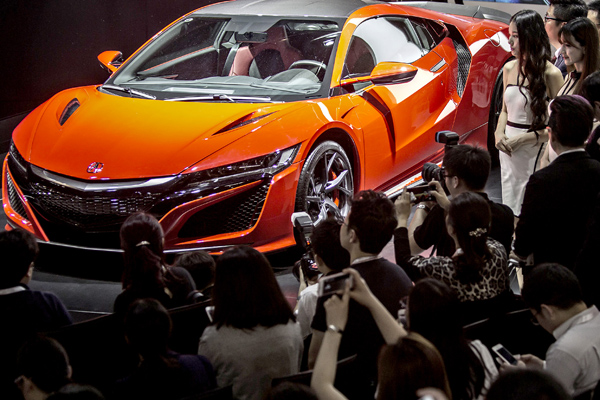 The Honda Motor Co Acura NSX supercar on display at an international auto show in Beijing. [Photo/Bloomberg]
Honda Motor Co said on Tuesday it has revived plans to expand production in China, beginning work on a new plant this year that will start operating in 2019.
The factory will have initial annual capacity of making 120,000 vehicles and could eventually produce 240,000 units a year, Chen Binbo, executive vice-president of Honda's China joint venture, said on Tuesday.
Honda said last year it would delay construction of a planned $822 million plant in Wuhan as industrywide demand slowed.
Demand for XR-V and Vezel sport utility vehicles have paced a 26 percent gain in Honda's China sales this year through September. Industry sales began to recover in the fourth quarter of last year following the introduction of a tax cut on purchases of vehicles with smaller engines that's scheduled to expire on Dec 31. Passenger-vehicle sales have surged 15 percent to 16.75 million units in the first nine months of this year.
Honda's new models for China this year include an updated Civic compact and all-new Avancier and Acura CDX SUVs. The Tokyo-based company also is beginning to produce hybrid engines locally for Accord sedans.
BLOOMBERG