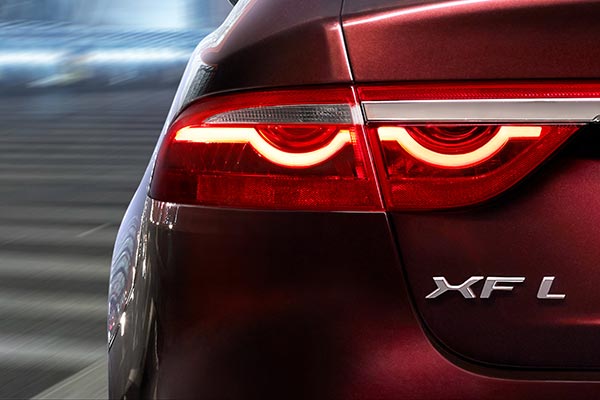 A close-up of the all-new Jaguar XFL manufactured by Jaguar Land Rover. The Britain-headquartered carmaker saw a nearly 20 percent year-on-year increase in sales in China in the first quarter of this year. Photo provided to China Daily
Iconic British auto manufacturer Jaguar Land Rover will light up Auto China 2016 in Beijing on Monday with its latest eight models, all of which symbolize both the company's market preeminence and commitment to providing Chinese customers with the ultimate driving experience.
The all-new Jaguar XFL made its world premiere, while Land Rover's 2016 Range Rover Evoque and Evoque Convertible sport utility vehicles also make their China debuts at this year's event.
"We are dedicated to making our customers feel special and taking care of their wellbeing," said Ralf Speth, CEO of Jaguar Land Rover. "The new products you see show our commitment to creating desirable products and outstanding experiences for our customers in China."
"Our goal is to deliver an outstanding customer experience," Speth said.
Demand for both Jaguar and Land Rover is growing again in China.
The first three months of 2016 have shown strong year-on-year growth and marked seven consecutive months of expansion. The company expects this upward trend to continue over the coming months.
Operating two renowned luxury brands, JLR and its Chinese joint venture Chery Jaguar Land Rover Automotive have worked to combine elegant design, state-of-the-art products and advanced technologies that aim to give Chinese customers an unrivaled British-style deluxe driving experience.
"As a leading British company, Jaguar Land Rover is fully committed to its long-term development in China," Speth said. "Our partnership with Chery is a testament to that."
Yin Tongyao, chairman of the board and general manager of Chery Automobile Co, concurred. "Through our cooperation, we have brought the world's best cars to China," he said. "We have brought top-notch manufacturing (to China) and helped the distinguished British automotive company lay roots in China.
"Our cooperation is not only intended to provide a model example for Jaguar Land Rover, but also for other premium brands in China."
As the only carmaker in the world to have three royal warrants, JLR has a passion for creating special vehicles that combine aesthetic elegance and superior performance, creating loyal customers for life.
"Our joint venture agreement with Chery Automobile is the key to us delighting and exciting our customers here in China," Speth said.
"The Chery Jaguar Land Rover factory in Changshu is delivering world-class quality using precision technology to the highest environmental standards."
Staf are equipped with the skills and opportunities to make the most of their talents and compete with the best in the world, he said.
Groups of Chinese workers have spent months at a time working alongside their peers in plants in the United Kingdom and their experience, along with the global standards they have learned, is shared on their return to China.
The Jaguar Land Rover Apprentice Training program, which began in 2011, has been expanded to work with 10 vocational colleges around the country over the past five years.
Annually, 400 apprentices graduate from the current program, but this number is still growing to meet the company's demand for technical professionals.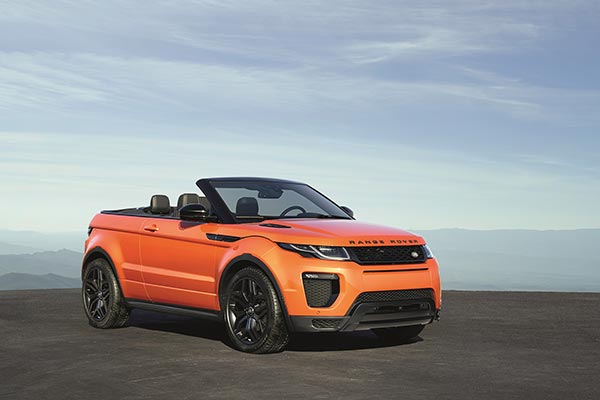 The Evoque Convertible is one of the latest additions to Land Rover's lineup. Photo provided to China Daily

Dynamic business sedan
The locally produced all-new Jaguar XFL debuts as the luxury brand's first model specifically designed and engineered for the discerning tastes of Chinese customers.
The all-new Jaguar XFL represents a culmination of the brand's drive for success and offers the superiority, comfort and performance synonymous with the brand.
"The XFL is a modern dynamic sports sedan that boasts the latest technologies, engineering excellence and outstanding driving performance," said Mark Bishop, president of Integrated Marketing, Sales and Service.
Exclusive to the China market, the dynamic luxury business sedan's wheelbase has been stretched to 3.1 meters to provide exceptional leg space for the comfort of Chinese drivers and passengers.
Despite the extra length, the model is in perfect proportion. The sporting profile of the roofline has been flawlessly preserved without compromising the elegant lines which distinguish Jaguar from the rest.
The vehicles' rear passengers may also appreciate the recently debuted Clear Exit Detections System, which warns of traffic approaching from behind, making it safer to exit the vehicle.
As the only vehicle in its segment using lightweight aluminum architecture, Jaguar XFL boasts an aluminum alloy rate of 75 percent.
Sharing the stage is the Jaguar XJL Diamond Limited Edition, one of the most luxurious cars ever produced by Jaguar, with an autobiography body kit developed exclusively by the company's Special Operations division.
New Range Rover Evoque
As one of the most popular Land Rover models, the charismatic all-terrain luxury SUV 2016 Range Rover Evoque made a stunning appearance.
Aesthetic improvements such as new LED headlights and a distinctive restyled front bumper are among the upgrades to the new model.
With the optional All-Terrain Progress Control system substantially enhancing its off-road capability, the vehicle lineup has been revised to ofer customers more standard specifications and even better value for money.
Updates to the 2016 Range Rover Evoque add to the overall driving experience, consolidating its leading position in this segment. It is expected to sustain its appeal to customers in the China market.
"Evoque remains our bestselling vehicle in China ever and 2016 Model Year Evoque is sure to appeal to even more style conscious owners," said James Hu, deputy president of IMSS. "As well as aesthetic improvements such as new LED headlights and the distinctive restyled front end, the vehicle lineup will be revised to offer our customers more standard specification and even better value for money."
As the world's first luxury mid-size SUV, the Convertible maintains all the classic Range Rover family elements, while adopting stylish elements from the new standard Evoque.
It is one of the most capable all-season and all-terrain convertible SUVs. In addition to the trend-setting design and configuration, it also has a sophisticated collapsible roof top.
Among the latest additions to the lineup, the Evoque Convertible is set to become one of the most appealing models globally.