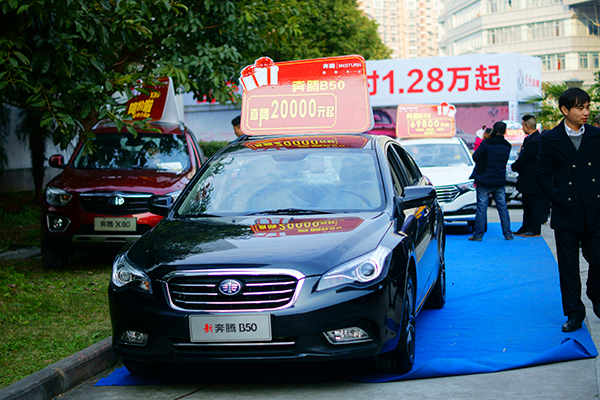 Cars on sale at an auto exhibition in Yichang, Hubei province. [Photo/China Daily]
Association pins slump to Spring Festival dormancy; popularity of SUVs continues to surge
China's auto sales fell slightly in February, though industry officials say the dip does not reflect a longstanding trend.
Last month, 1.58 million vehicles were sold, according to the China Association of Automobile Manufacturers. That is a 0.86 percent slip year-on-year, but more importantly, it is the lowest February sales figure in three years, at least 10,000 units fewer than the February sales totals in either 2015 or 2014.
Yao Jie, the association's vice-secretary-general, said the fluctuations are reasonable considering the weeklong Spring Festival, during which people rarely buy cars.
"The dip in February sales does not reflect a long-term trend this year."
Auto sales in the first two months this year totaled 4.09 million, a 4.4 percent growth from the same period last year, similar to last year's overall growth rate.
CAAM expected the growth rate this year to reach about 6 percent, which would translate into 26 million vehicles sold.
Factors leading to the organization's prediction include the popularity of SUVs and China's favorable policies for small-engine cars and new-energy vehicles.
In February, China sold 478,000 SUVs, a 44 percent surge year-on-year, a continuation of the sales momentum seen last year.
Four of the five most popular SUVs, according to the China Passenger Car Association, are from Chinese manufacturers: Haval, JAC, Changan and Trumpchi, outperforming Volkswagen's Tiguan and GM's Encore.
Sedan sales were another story. Almost 700,000 sedans were sold in February, a 17.8 percent slump year-on-year.
But China's favorable policy on small-engine cars is still going strong, inducing a total of 720,000 cars with engines at or below 1.6 liters to be sold, which accounts for 52 percent of total passenger vehicles sold in the country.
New-energy vehicles continued their growth as the country has rolled out a slew of measures to promote new-energy vehicles, including tax exemptions, subsidies for car purchases and a requirement for government departments to buy more new-energy cars.
Sales of plug-in hybrids through the first two months totaled 10,900 units, a 68.5 percent rise year-on-year, and 24,835 electric cars were sold in the same period, up 314 percent year-on-year, according to CAAM statistics.
Chinese brands expanded their market share by 3.1 percentage points to 46 percent in the passenger car market. In the SUV market, Chinese brands seized a market share of 60 percent, with 20 percent in the sedan market.