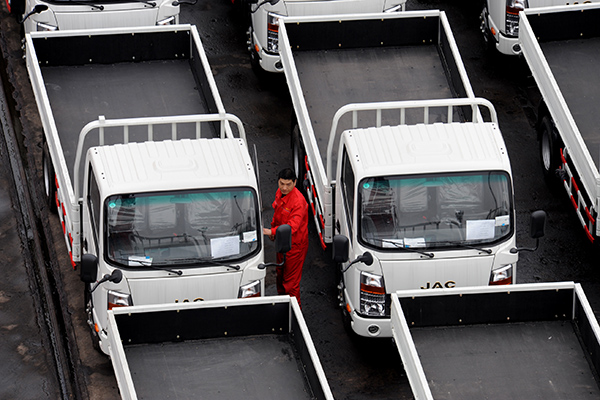 Trucks manufactured by Anhui Jianghuai Automobile Co stand ready for shipment to Algeria at the port in Lianyungang, Jiangsu province. JAC exported more than 30,000 trucks to Africa from 2011 to 2015. [Photo/China Daily]
Anhui Jianghuai Automobile Co, one of China's top 10 automakers, will soon have its first light-load truck assembly plant in Africa.
To be based in Ain Temouchent province of Algeria, the plant will have a capacity to assemble 10,000 light trucks each year, after the completion of the first phase.
The automaker, which is more widely known as JAC, declined to reveal when the plant will be finished and put into use, but said "it will not be long".
The plant involved a total investment of $128 million and will be JAC's 19th vehicle assembly plant in the world and its first light truck plant in Africa.
The company said it will be built through cooperation with Emin Auto, an auto dealer in Algeria.
"It is only when sales in a certain market have reached a considerable amount that we can think about building a plant there," said Zhang Peng, deputy general manager of JAC International Co Ltd, a JAC subsidiary based in Hefei, the capital of Anhui province.
Zhang summarized the JAC's localization strategy as "using international resources to do international business", and stressed that it is in agreement with Algeria's new rules for the auto sector.
Amar Agadir, director of the investment division of Algeria's Industry and Mining Ministry, said at the signing ceremony of the JAC plant held recently in Algiers: "The country has released new rules to encourage international automakers to found localized ventures in Algeria in cooperation with local companies."
JAC has witnessed rapid development since it first exported light trucks to Algeria in 2000.
From 2011 to 2015, JAC exported 94,000 light-load trucks globally. More than 30,000 of the trucks were delivered to Africa, and about 23,000 were sold in Algeria.
In addition, it also exported about 5,000 passenger cars and more than 2,000 mini trucks to Algeria in the five years.
"About 3,000 passenger cars were sold in 2012 alone, after which the sales have been affected by the wars in neighboring Libya," said Wang Guanyong, who works in the publicity division of JAC.
JAC has one flagship store and more than 40 other sales and service centers for light trucks in Algeria.
Data from JAC showed Algeria has about 35,000 of its light trucks in use, making the automaker the No 1 international light truck brand in the country.
"The plant will help us achieve higher market shares not only in Algeria but also in neighboring countries," said Zhang, adding that markets in southern Africa will still rely on whole-set importing from China.
JAC's other 18 overseas assembly plants are mainly based in the Middle East, Southeast Asia, South America and Central Asia.