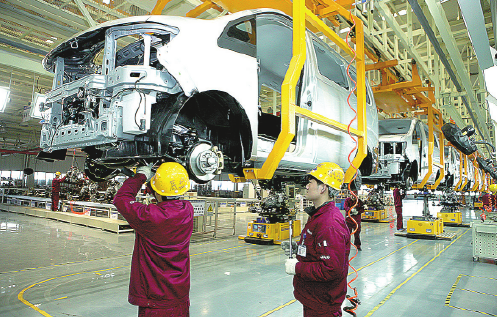 Workers assemble new multipurpose vehicles at Jianghuai Anchi Automobile's plant in Bozhou, Anhui province.[Photo/China Daily]
Chinese auto experts expect multipurpose vehicles to become the next popular vehicle in China as the nation's two-child policy goes into full swing.
"At a time when more and more families are going to have their second child, a family needs to carry more items in a larger vehicle," said Wu Shaoming, secretary-general of the Chinese Association of Automobile Manufacturers, last month.
"MPVs are becoming people's mobile homes as they focus more on their life experiences."
Late last year the central government passed a new law allowing every couple to have two children starting from Jan 1.
That bodes well for the MPV market, which are considered family-oriented vehicles. Sales of MPVs through the first 10 months of last year grew 7.8 percent, according to the China Association of Automobile Manufacturers.
According to a joint report by global consultancy Roland Berger and BitAuto, which provides marketing services for China's auto industry, released in November, 7 percent of customers in major cities in China and 11 percent of customers in smaller cities would prefer an MPV as their primary vehicle.
"A second child will become a consumer's major factor in their decision to buy an MPV. But, sales of MPVs might grow slowly over the next three to five years," said Zhang Junyi, a partner at Roland Berger. "MPVs are roomier and have more space than SUVs. MPVs are more comfortable for passengers and they consume less fuel. Many urban SUVs aren't even suited for off-road excursions."
Among the best-selling passenger vehicles on the Chinese mainland last year, two were MPVs and one was an SUV.
The Wuling Hongguang S from SAIC General Motor, with sales of about 655,500 units last year, topped the MPV market for the fourth consecutive year. The company's Baojun 730 ranked fourth.
Zhang said the Wuling Hongguang S is a low-end compact MPV suited for passengers in smaller cities.
"The popularity of the Hongguang S owes mainly to customers replacing their old minivans. It has no rival at the 80,000 yuan ($12,200) price."
Sales of MPVs contributed 8.7 percent to total vehicle sales last year, with 2.1 million units sold. Zhang predicted the market for MPVs may reach 10 percent in the near future and peak at 15 to 20 percent.
A Beijing resident surnamed Li, who asked not to use his full name, said he is considering buying an MPV because he and his wife are going to have a second child.
He also wants to take his entire family, including his parents, out on road trips.
"My wife has a subcompact hatchback and I own a full-size sedan. My father has been driving a Chinese car for more than 10 years. We are replacing his car, but we want to use it for the whole family."
He added that SUVs are not his "cup of tea".
"My father and mother cannot easily get in and out of an SUV. They're positioned high and the suspensions don't promise a comfortable ride. And no one wants to be seated in the cramped third row. MPVs are more likely to make everyone happy in a journey."
After shopping for options on the market, Li said he did not find one that caught his eye, explaining that some MPVs were too low for him, while other made him look like a chauffeur.
"In China's major cities that have restrictions on license plate registrations, there is a greater tendency for customers to buy a high-end car."
Li said he will wait until a more attractive MPV hits the market. Several international automakers have said that they are bringing more MPV models into the Chinese market.
Citroen began importing its C4 Picasso to the Chinese market at the end of 2015. Volkswagen China is going to import its new Touran L in the first half of this year.