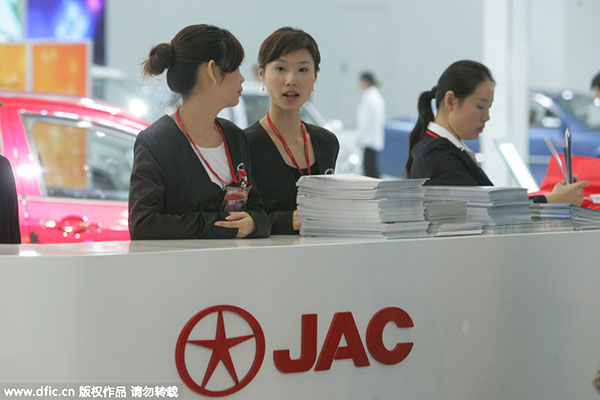 Chinese employees talk at the stand of JAC during an auto show in Guangzhou city, South China's Guangdong province, 18 November 2008. [Photo/IC]
Chinese firm is setting up shop to market and service the JAC light truck
JAC Motors, a Chinese light truck brand that is the third best-selling light truck maker in the world, has become No 1 in most parts of Africa.
It is only one of the transformations taking place with Chinese products.
While such products have relied on low cost due to inexpensive labor, things are beginning to change as quality improves and robots take over more of the production process in China, said Lyrida Lu, director and vice-general manager of AVIC-JAC Motors East Africa Ltd, a joint venture between AVIC International Beijing Co Ltd and JAC Motors from China. The company recently opened a dealership in Nairobi.
In an interview with China Daily, Lu said that in the past, China mainly relied on human capital to produce its goods while the rest of the developed world used machines. This considerably reduced production costs for Chinese products, which also translated to lower prices.
"China's manufacturing industry is now moving from overreliance on human labor to robots, which is now making the pricing of Chinese brands sometimes even higher than those from other markets. At JAC Motors for example, we now use 90 percent robots to produce our engines as opposed to human labor used in the past," he said.
Lu also attributed the gradual increase in costs of Chinese products, especially motor vehicles, to raw materials, despite recent reductions in iron ore and oil prices, and the exchange rate. He said China's currency, the yuan, has been on a steady rise against many other major currencies.
AVIC-JAC Motors East Africa officially entered the Kenyan market on Dec 12, although Lu said other Kenyan companies were already marketing the vehicles in East Africa long before.
"Our vehicles have been in the East African market since 2006. Stantech Motors and Simba Colt Corp were our partners in the past," Lu said, adding that the JAC brand will in the next two to three years feature the three top-selling models in Kenya.
"JAC is No 3 in the world in terms of sales and, in most parts of Africa, we are also No 1. For example, in Algeria we sell over 6,000 units per year. Egypt, Zimbabwe, Zambia and Mozambique are also markets where we are dominating," he said.
The company, with offices at the Savannah Business Park, close to Jomo Kenyatta International Airport, also has dealerships in Ghana, Niger, Namibia, Nigeria, the Democratic Republic of Congo and Burundi.