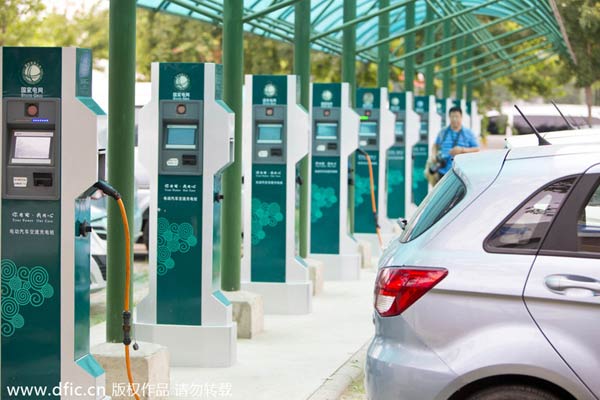 View of the charging facilities at the production site in Daxing district, Beijing, July 23, 2014. [Photo/IC]
BEIJING - China's production of new energy vehicles surged by 600 percent year on year in November thanks to government support.
Total production in November stood at 72,300 units, the Ministry of Industry and Information Technology said Monday in a statement.
During the month, output of pure electric passenger vehicles soared 700 percent from a year earlier to 30,000 units and that for plug-in hybrid passenger vehicles tripled to 7,509.
Pure electric and plug-in hybrid commercial vehicles skyrocketed by 18 times and 97 percent, the statement said.
China rolled out a raft of measures to promote new energy vehicles in a bid to save energy and combat pollution, including tax exemptions, subsidies for car purchases and a requirement for government departments to buy more new energy cars.
Official data showed that 95 percent of new energy vehicles produced in November would benefit from the favorable taxation policies.
In the first 11 months, China produced 279,200 new energy vehicles, up by four times from the same period in 2014.