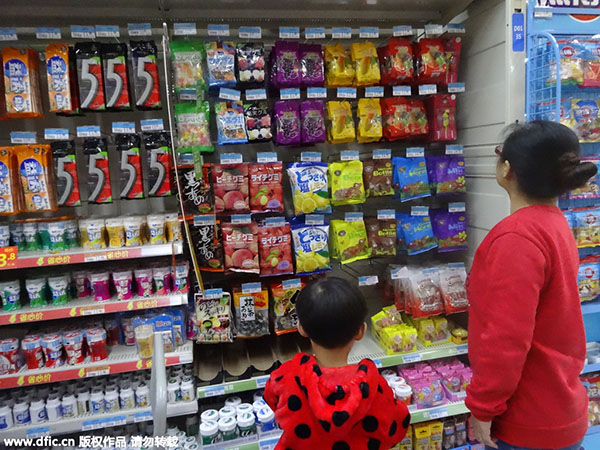 A monther and her child are seen shopping at a supermarket in Yichang city, Hubei province, Nov 28, 2015. [Photo / IC] 
Three "great forces" are defining China's consumer story in the next five years, which requires companies to have a "new China playbook" to grab the tremendous opportunities, according to a research by Boston Consulting Group.
The three are: The rise of upper-middle-class and affluent households as the driver of consumption growth; a new generation of freer-spending, sophisticated consumers; and increasingly powerful role of e-commerce, according to the research, which was jointly conducted by AliResearch, the research arm of Alibaba Group Holding Ltd.
The research estimated that by 2020, 81 percent of consumption growth will come from households whose annual income will be more than $24,000. Consumer 35 or younger will account for 35 percent of growth. E-commerce will become a far more important retail channel, driving 42 percent of total consumption growth, 90 percent of that growth will come from mobile e-commerce.
Types of products fuelling China's consumer boom will also change. Service will overtake goods as the chief engine, accounting for 51 percent of total incremental consumption; Demand for premier goods and services that enhance a personal sense of well-being—such as healthy food, education, travel, rather than daily necessities --will accelerate.
According to Taobao, Alibaba's main online platform, spending by the average e-shoppers of organic and imported food and beverage has expanded eightfold over the past three years. Many popular online offerings, such as organic baby-food, rice, and tea, aren't carried in local stores.
The study also found Chinese consumers buy higher-priced products online. Overall consumption of home care products, packaged food, personal-care items increase only moderately when households become more affluent.
But according to Taobao data, online purchase on these categories increases by around 150 percent when families enter the upper-middle class. Online purchase nearly double again among affluent households ---that's because they find more distinctive, more premium-priced products online.
The report noted that because of the dramatic change in consumption habits, the winning strategy of the past is becoming outdated. It would be more important than ever before for companies to be highly strategic in the way they pick targets.
"The days are over when demand in China for everything seemed insatiable," said Youchi Kuo a principal of BCG. "Targeting the wrong income segment, playing in the wrong categories, and being unrepresented in the fast-growing online channel will be a formula for slow growth."
The report also projected China's consumer economy to expand by about half, to $6.5 trillion, by 2020---even if annual real GDP growth slows to 5.5 percent. The incremental growth of $2.3 trillion growth alone over the next five years would be comparable to adding a consumer market 1.3 times larger than today's Germany or the United Kingdom.