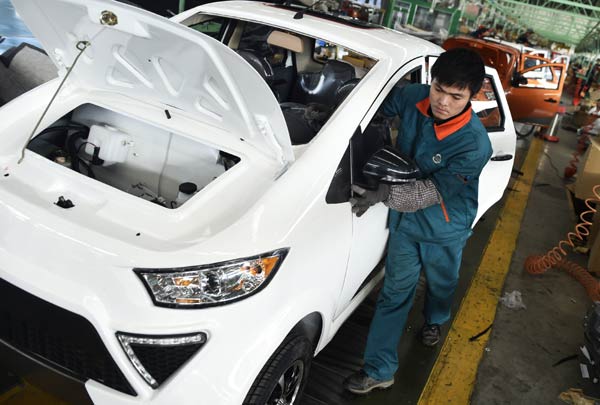 An engineer on the assembly line of an electric car company in Zouping, Shandong. The province saw mini electric car sales grow in second- and third-tier cities last year. DONG NAIDE/FOR CHINA DAILY
More than 300,000 small, pure electric cars were sold in China last year. Perhaps surprisingly, the best seller was not Tesla Model S. Instead the top sellers were mini electric cars.
Shifeng Group, in Shandong province, had the largest sales of more than 60,000 units by November 2014. Hebei Yogomo Special Vehicle Manufacturing Co, in Hebei province, sold more than 50,000 units.
The majority of these cars were sold in third-tier cities, townships and counties across North China, East China and Central China.
In Shandong province alone, about 172,900 mini electric passenger cars were produced last year, according to data released by the provincial automobile manufacturers association on Feb 2.
The association's deputy chairman Lu Fujun said that the low purchase price and running costs of the mini electric cars boosted sales. He added that most customers had their own parking spaces and used household power outlets for recharging.
The suggested price for mini electric cars is usually below 50,000 yuan ($8,100), with some models going for even cheaper than 20,000 yuan.
Lujo (Weihai) EV R&D Co, a mini electric carmaker founded in 2010, sells its models for about 30,000 yuan.
Lujo's CEO Lu Jiantong said the company's cars use Italian design, a German electronic control system and a Canadian recharging system.
The mini cars have small capacity batteries that allow for a driving range of about 100 kilometers, which is one fifth of the range of the Tesla Model S 85 kWh. The top speed of the mini cars is about 110 km/h.
The State Council's new energy vehicle industry development plan issued in June 2014 said it expected the mini cars to be developed to go further than 150 km with top speeds of 100 km/h by 2015.
Chen Quanshi, director of the automotive research institute at Tsinghua University, said electric cars were regarded as legitimate as long as they met the standards of the Ministry of Industry and Information Technology, who require a driving range of more than 80 km and a top speed of above 80 km/h.
Lu Jiantong said that customers were not concerned with advanced technology, or varied battery systems but that they just needed low-cost alternatives that are more comfortable than mini-vans.
"A market leader will not be the one nurtured by government policies, but one who passes the market tests and wins the customers," said Lu Jiantong.
The mini electric cars by Shifeng Group, whose specialty is in agricultural vehicles, are not supported by government new-energy car subsidies. The Yogomo brand cars, whose sales ranked second, and the Lujo cars were also not eligible.