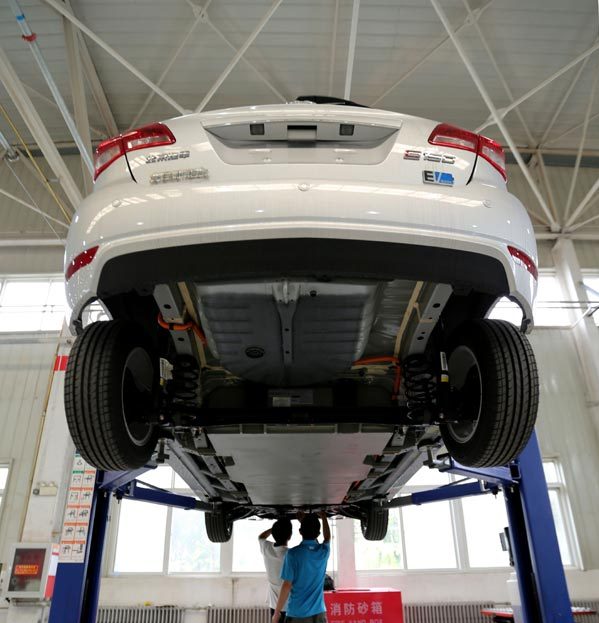 Engineers examine the battery of an electric car manufactured by Beijing Automobile Industry Co. [Photo/China Daily]
Govt incentives to keep firms interested in sector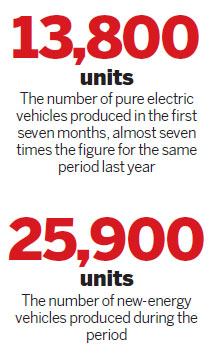 As the government moves to stimulate sales of new-energy vehicles, a list of pure electric, plug-in and fuel-cell models exempt from sales tax will be released later this month, according to the Ministry of Industry and Information Technology.
With taxes averaging about 10 percent of the sticker price on new cars in China, the measure effective from Sept 1 should give a boost to the industry, said industry experts.
Customers in southern and eastern China might applaud the measure, but it is likely to have little impact in the country's vast northern regions.
With current battery technology, electric vehicles do not perform well in cold weather.
Pang Yicheng, CEO of the news portal d1ev.com, said some automakers admitted their electric vehicles are sold only in regions south of Beijing because they worry their batteries might not work well farther north - where temperatures can fall to minus 30 C or even 40 C in winter.
Lithium batteries are designed to still work down to minus 25 C and as high as 60 C, but performance drops sharply in temperatures below zero, said Tong Deming, general manager of battery maker Microvast.
Sun Fengchun, vice-president of the Beijing Institute of Technology, said electric vehicles that can run 100 kilometers at 25 C might have a range of less than 50 kilometers when the temperature falls to minus 25 C.
Forbes magazine reported that the AAA Automotive Research Center in Southern California found similar results when it tested three different electric vehicles under controlled circumstances to gauge their performance.
The test found the three models averaged a range of 105 miles at 24 C, but the figure plummeted to just 43 miles when the thermometer dipped to minus 7 C.