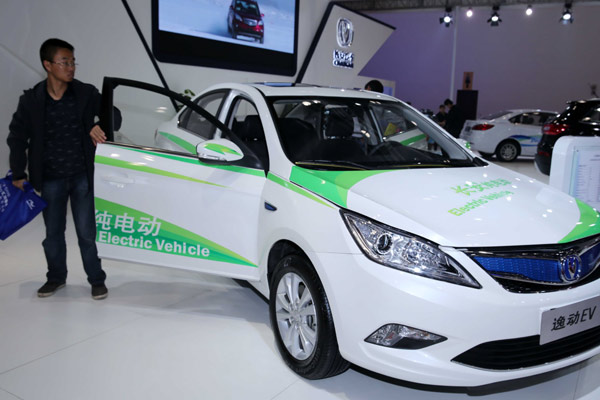 A potential buyer examines an electric vehicle on display at an auto show last month in Beijing. Between 2015 and 2020, as many as 520 types of xEVs are expected to be launched globally. [Chen Ming / China Daily] 
If you were trying to create conditions for electric vehicles to flourish, then you might end up with a country like China.
It is the world's largest vehicle market, and it has a massive urban population, with all the traffic and pollution challenges that this entails. China needs and wants hybrid and pure electric cars, collectively called xEVs. It also has a growing xEV industry and infrastructure, and its consumers might be more disposed to adopt xEVs than those in other countries.
The last time that electric propulsion was a competitor for car drivetrains was in 1900 or so.
Back then, rapid innovation of the internal combustion engine and the petroleum infrastructure killed off electric propulsion for mass applications.
Today, volatile oil prices, urban pollution, traffic congestion, technological advances and a real sense of corporate opportunity mean that electric propulsion is again a viable alternative, so much so that the tipping point for rapid adoption of xEVs could be as soon as 2020.
Between 2015 and 2020, as many as 520 types of xEVs are expected to be launched globally.
Those vehicles may be only a minority of manufacturers' products, but the large range of vehicle types forecast to go on the market is evidence of the industry's rapid evolution, commercial experimentation and broader acceptance among consumers.
Globally, the strategic supply bases and partnerships necessary to develop and manufacture these vehicles have already largely been established.
Top-tier suppliers have the business rationale and research and development strength to protect their current positions with auto producers and look for future advantages.
Industrial and semiconductor companies are developing new applications in the actual vehicles and the charging infrastructure.
China's car manufacturers are heavily committed to developing xEV technology and products.
The country also has a capable and rapidly expanding auto supply base and a near-monopoly on rare earth minerals, which are essential for the magnets in high-performance electric motors.
PricewaterhouseCoopers research suggests that by 2020, at least 6 million electric powertrain vehicles (including hybrids) will be produced each year globally, amounting to 5 to 6 percent of 2020 global vehicle production.
At the high end of the estimate range, volumes could be twice this number. Either way, these volumes represent many billions of dollars of long-term commitment from the industry and governments.