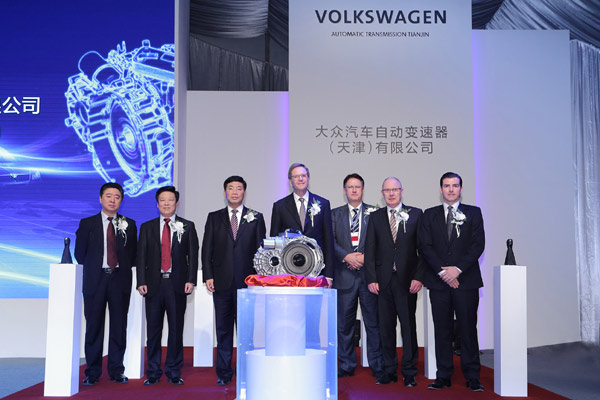 Officials from Tianjin municipality and senior executives of Volkswagen AG at the opening ceremony of the automaker's transmission plant.
Volkswagen AG unveiled a new transmission plant in the coastal city of Tianjin in North China in early November as part of its plan to make highly efficient cars for the world's largest auto market.
The 2.2 billion yuan ($359 million) plant in the Tianjin Economic-Technological Development Area is designed to produce 450,000 double-clutch DQ380 gearboxes in the initial period, said the company.
Production capacity will be scaled up to 1.2 million units by 2016. The plant will eventually also produce the DQ500 gearbox, it said.
It added the DQ380 gearbox is especially designed and developed for the Chinese market and will be equipped on some models produced by Volkswagen's joint ventures Shanghai Volkswagen, FAW-Volkswagen and the premium Audi marque.
"The new generation of DSG gearboxes will make Volkswagen the most sustainable automaker in China by 2018," said Jochem Heizmann, president and CEO of Volkswagen Group China at the plant's opening ceremony.
He explained the gearbox, combined with the third-generation of the EA888 engine, can reduce gasoline consumption by half a liter per 100 km, which reduces carbon dioxide emissions by 12 grams per km compared with the previous generation.
"As soon as production at Tianjin is running at full capacity, Volkswagen will be able to provide over one million vehicles on China's roads with gearboxes optimized for fuel efficiency in combination with the advanced engines, making a significant additional contribution to the reduction of carbon dioxide emissions."
The plant will also help boost the local automotive industry as 61 percent of the transmission's 423 parts are made by Chinese suppliers. Volkswagen expects the figure to rise to 91 percent in 2016.
Xu Hongxing, head of the Tianjin Economic-Technological Development Area, said the area is already home to about 120 companies in auto industry that are producing both vehicles and spare parts.
He added that there will be more opportunities for cooperation as the plant starts production.
Volkswagen said its first overseas component academy is to open in Tianjin in 2015 to "make it possible to meet demand for employees with specialist technical qualifications".
The newly unveiled transmission plant now has 800 employees, 8 percent of them international staff.
The training academy under construction will mean all employees will be Chinese within five years, said the company.
Volkswagen said it will also join hands with local vocational schools to train qualified personnel for the auto industry.
Plans also call for a facility in Tianjin to test all DSG transmissions produced in China and a new vehicle plant in the city by its joint venture FAW-Volkswagen.
China is Volkswagen's largest market worldwide now.
Volkswagen Group China, together with its Chinese joint ventures Shanghai Volkswagen and FAW-Volkswagen, delivered more than 2.7 million vehicles in the first three quarters of 2014, an increase of 15.2 percent over the previous year. It expects the figure to reach 3.6 million by the end of the year.