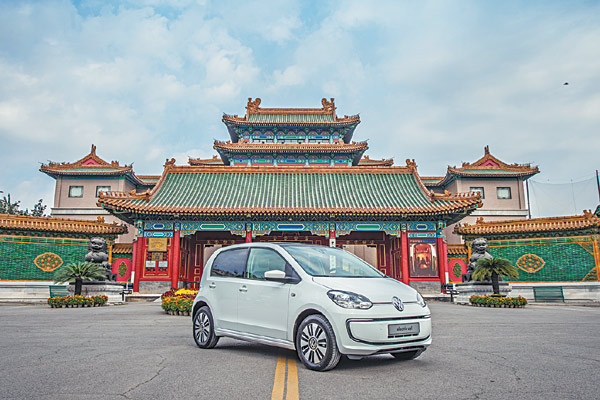 A volkswagen electric up! car in front of a traditional Chinese building. The company has strong ambitions for China's new energy car market. [Photo / China Daily]
German automaker's series of electric cars ready to hit China's roads in e-revolution
German automaker Volkswagen AG is opening up the world of electric cars to Chinese customers, after it announced an aggressive e-revolution plan for the domestic market for the next three years.
"Top of our list are eco-friendly technology innovations made in China and especially made for China," said Jochem Heizmann, member of the Board of Management of Volkswagen AG as well as president and CEO of Volkswagen Group China.
"Volkswagen Group will have a full portfolio of more than 20 new energy vehicle models available in China by 2018, from small cars to large sedans and sports-utility vehicles, from plug-in hybrids to pure electric drives," he said.
Heizmann attended the company's "Get Electrified!" driving experience initiative in Shanghai last week, which introduced three new energy models including the electric up!, e-Golf and Golf GTE.
"The new energy vehicles will play a key role in making Volkswagen the most environmentally friendly carmaker by 2018," said Heizmann. "The group's overall focus is plug-in hybrid vehicles in the short- and mid-term. From a long term perspective, electric vehicles will lead the market while in the far future it will turn to fuel cell models."
The company believes that the plug-in hybrid with the combination of an electric battery with an efficient combustion engine offers the best solution in terms of carbon dioxide emissions - neutral urban driving and long-range mobility.
This is further backed up by the current shortage of charging infrastructure for pure electric vehicles, said Heizmann. "The hybrid Golf GTE can be easily fully charged by any conventional socket on the wall in six hours, with no need for a public charging station," he said.
Heizmann explained that the plug-in hybrid could offer Chinese people what they need and want. "Its pure electric driving with zero emissions in urban areas, long-distance flexibility with an efficient combustion engine and lots of dynamics and driving fun," he said.
In 2013 the group brought the Porsche Panamera S E-Hybrid to China.
Volkswagen plans to offer fully electric battery vehicles, starting with the electric up! by the end of the year. In 2015 the Volkswagen Golf GTE, e-Golf and Audi A3 e-tron will hit the road in China.