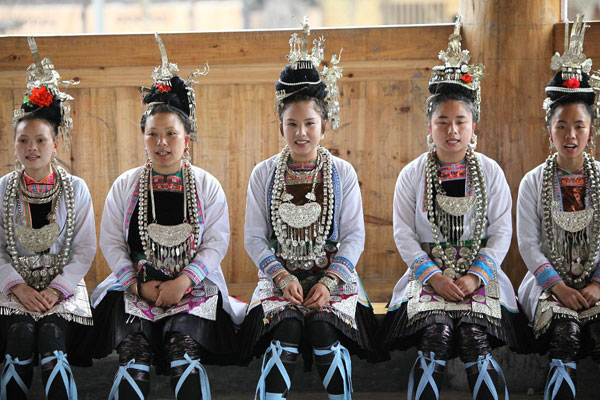 Dong minority women perform Kam Grand Choir, an intangible cultural heritage in Guizhou. CHINA DAILY
Intangible cultural heritage items with hundreds of years of history are an important part of an ethnic group's spiritual legacy. They can inspire pride and express key values unique to a particular ethnic group.
An example of this is the heroic tale of King Yalu, sung at funerals for many generations by Miao people in Guizhou province.
After the song was officially named national cultural heritage item in 2011, a 10,819-line version of it was published, with more research expected in the future.
The multi-ethnic province is well known as an area of unrivalled charm and is home to several cultural gems including the sounds of Kam grand choirs, silver jewelry and batik cloth. Amid rapid social and economic development, exploration and protection of traditional cultural heritages can be forgotten and the issue has become a concern.
For this reason German luxury vehicle maker BMW started the "BMW China Culture Journey" campaign in 2007.
The campaign aims to protect Chinese traditional cultures and promote cross-cultural understanding and social inclusion.
The BMW project has seen people travel across 20 provinces, autonomous regions and municipalities to explore six major eco-cultural preservation zones and more than 170 intangible cultural heritage projects during the past seven years.
The program has also donated more than 7 million yuan ($1.12 million) to 69 intangible cultural heritage projects, according to the automaker.
BMW will continue the 15,000-km covered by the campaign so far with a journey to Guizhou in June.
The trip's theme is titled "embracing the colorful Guizhou, a spiritual homeland of harmony".
Two fleets will travel separately to the eastern and western areas of Guizhou. The eastern bound fleet will visit the villages of the Dong ethnic group in the southeast. They will listen to traditional songs and music played on copper drums and a reed-pipe instrument, called Lusheng, and see traditional craftspeople at work making embroidery, batik and silver jewelry.
The western bound fleet will visit Anshun, Zhenfeng and Ziyun to experience and study the region's diverse cultures. These include the Anshun Tunpu culture, the Buyi ethnic culture and the King Yalu culture of the Miao.
Throughout the eight-day journey both fleets will get firsthand experience of the food, folk customs and craftsmanship of Guizhou, by seeing more than 40 intangible cultural heritage items in their natural habitats.
As well as the journey, BMW said it hoped to attract cultural fans through a photo competition and several microfilms and information to be shared online.