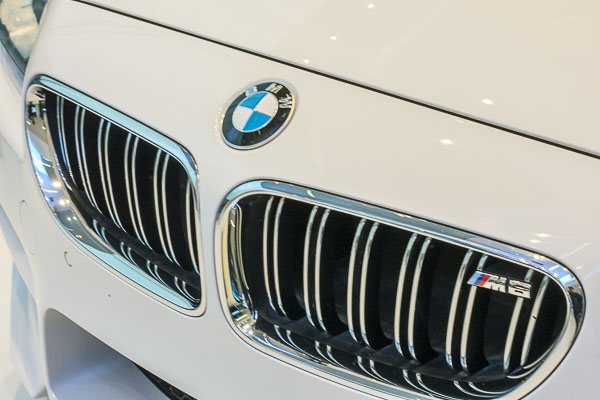 A BMW M6's kidney front grill is pictured on Jan 12, 2014 in the car maker's experience center in Shanghai. [Hao Yan / chinadaily.com.cn]
BEIJING - BMW China and BMW Brilliance Automotive will recall 232,098 imported and locally produced vehicles from June 18 due to engine problems, China's quality watchdog announced on Wednesday.
BMW will check whether the vehicles with six-cylinder petrol engines have screws on a certain component which are prone to breaking and may cause an oil loss, a spokesman said.
China's regulator, the General Administration of Quality Supervision, Inspection and Quarantine, had on Wednesday informed BMW that the recall was necessary, the spokesman said, adding that cars would start being inspected in June.
Of the vehicles due for inspection, around 93,000 are 3-series and 5-series cars produced in China together with joint venture partner Brilliance China Automotive Holdings, the spokesman said.
"We are reviewing the situation for other markets," the spokesman said, adding that BMW 1-series, 3-series, 5-series 6-series as well as the off-road variants X1, X3, X5, X6 and Z4 are being probed for the fault.
The engines which are prone to the fault come from a batch produced between June 2009 until June 2013, the spokesman said.
Vehicles will be checked to see if the screws on the casing of the VANOS valve timing system are prone to breaking. If a screw breaks, VANOS may lose oil and a warning lamp will alert owners to seek a garage to prevent engine damage.
Customers will have to leave their cars in a garage for a maximum of four hours, BMW said.