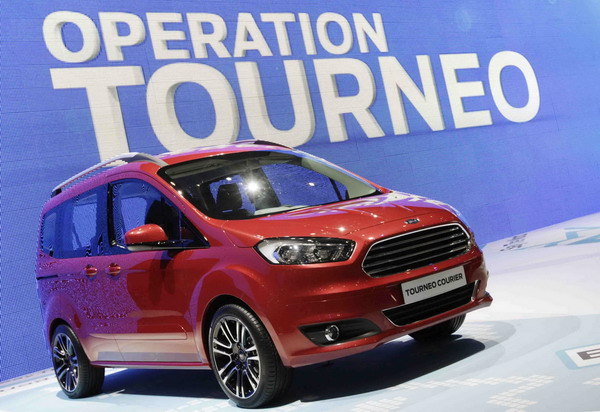 The new Ford Tourneo Courier car is seen during the presentation at the Ford stand at the 83rd Geneva Auto Show, March 5, 2013. The US automaker slashed the 2012 compensation of its chief executive officer Alan Mulally by 29 percent. [Photo / Agencies] 
Ford Motor Co slashed the 2012 compensation of its chief executive officer by 29 percent, in part because the No 2 US automaker missed some key goals for market share, profit and cash flow, the company said on Friday.
Alan Mulally, who has led Ford since 2006, received $2 million in salary and nearly $4 million in cash bonuses, Ford said in its preliminary proxy filing. His overall pay was $21 million, including stock awards, options and other perks.
That compares with an overall package of $29.5 million in 2011. This included a one-time restricted stock grant, worth $8 million at the time, for the CEO's role in reducing the number of Ford's vehicle platforms, a move that could cut costs and complexity.
"We believe our 2012 performance clearly shows our management team performed exceedingly well in a difficult environment," Ford said in its proxy statement.
Mulally, 67, is credited with spearheading Ford's turnaround by mortgaging the automaker's assets, including the Blue Oval logo, and executing his "One Ford" strategy to cut costs.
Ford beat its goals for cost controls and quality last year, but fell short of its benchmarks for profit and cash flow, two areas of heavy focus. In 2012, Ford met about 75 percent of its performance targets, Ford said in its proxy.
Ford's pretax profit was $8 billion, lower than the $8.7 billion aim. Its global automotive operating-related cash flow was $3.4 billion, less than the desired $4.6 billion. Ford said it met only 3 percent of its market-share target.
Europe was a key challenge last year. In 2012, Ford lost $1.8 billion in the region, where a punishing downturn has hurt industry sales. The company predicts it will lose another $2 billion in Europe in 2013.
Ford shares were off 0.2 percent at $13.40 on Friday afternoon on the New York Stock Exchange. The shares have gained about 3.5 percent so far this year.
Mulally payout beats rivals
Between 2006 and 2008, Ford lost $30 billion. But the company made a profit of $5.7 billion in 2012, its fourth straight year in the black.
The automaker also achieved an investment-grade credit rating from two agencies, allowing the company to reclaim assets that it mortgaged to pay for its turnaround.
Mulally's efforts helped Ford avert a federal bailout in 2009, when a global recession pushed General Motors Co and Chrysler Group LLC go through government-financed bankruptcy restructurings.
Mulally is paid far more than his counterparts at GM and Chrysler. GM CEO Dan Akerson was given $11.1 million in compensation for his 2012 performance, a person familiar with the matter said last month.
Chrysler CEO Sergio Marchionne received $1.2 million in stock awards and other compensation, according to the company's annual regulatory filing.
Over the last year, investors and analysts have raised several questions about the timing of Mulally's eventual retirement. Last year, Ford announced that Mulally agreed to stay on as CEO at least through 2014.
Ford also promoted Mark Fields to chief operating officer, one of several other management changes made last year. Fields, who was paid $8.9 million in compensation in 2012, is considered a frontrunner to be Ford's next CEO.
Executive Chairman Bill Ford's compensation came to $14.8 million last year. Chief Financial Officer Bob Shanks earned slightly more than $5 million, while Jim Farley, head of global marketing, earned $4.6 million.