Huawei unveils AI-enabled smartphone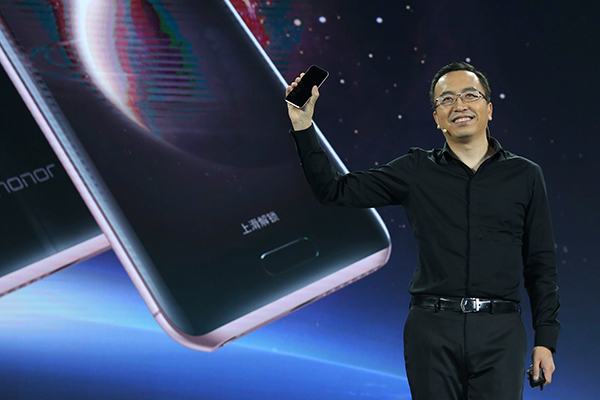 Zhao Ming, president of Honor, shows the latest smartphone, Honor Magic, at Friday's release. [Photo provided to China Daily]
Firm says handset can sense its environment, learn from owner's patterns of behavior
Huawei Technologies Co Ltd unveiled an artificial-intelligence-enabled smartphone on Friday, as the world's third biggest handset maker ramped up its resources to experiment with cutting-edge technology and new industrial design.
Honor Magic, released by Huawei's sub-brand Honor, comes with dual cameras in both the front and the rear. It is also equipped with the Shenzhen-based firm's latest fast-charging technology which promises over 90 percent of battery strength with a half-hour charge, faster than most rival products.
Zhao Ming, president of Honor, said it took four years for Huawei to develop the new handset so that it can not only automatically sense its environment, but also have the ability to learn from an owner's behavioral patterns and use.
"For example, as soon as you arrive at a movie theater your e-ticket will automatically pop up on the smartphone screen, because the phone knows that you have arrived at your destination," Zhao said.
Huawei says that the longer owners use the handset, the smarter it becomes. "If I send out a message saying 'let's meet at our regular bar', the phone will know which bar I am talking about and can automatically map the best route to get there," Zhao added.
The new model, priced around 3,700 yuan ($531), comes amid increasing concerns about whether the smartphone sector has hit the ceiling point for innovation, as products increasingly look and operate similarly.
In October, Xiaomi Corp unveiled its concept phone MIX, whose display features a 91.3 percent screen-to-body ratio, arguably the highest on any smartphone, as part of its efforts to differentiate its handsets.
"Although Apple has already achieved some similar AI functions on its iPhones, the offerings on Honor Magic are more intelligent and more suitable for Chinese consumers," said James Yan, research director at Counterpoint Technology Market Research, in a written comment.
Yan said Huawei was providing consumers with one-stop AI services for different scenarios, such as traveling, shopping and going to movies, rather than scattered AI services.
"But it is also of crucial importance to protect user data and privacy," Yan added.
Established in 2013, Honor was initially designed by Huawei as an internet brand to compete with Xiaomi. But as online sales hit a ceiling, it is also trying to gain ground in the bricks-and-mortar market. So far, Honor has been sold to over 100 million users.
Jin Di, research manager at International Data Corp China, said in a report that better AI services would be one of the key areas for smartphone vendors to focus on going forward.
Honor Magic became available in the Chinese mainland on Friday evening.