UBS chairman says China capable of handling impact of slowdown in globalization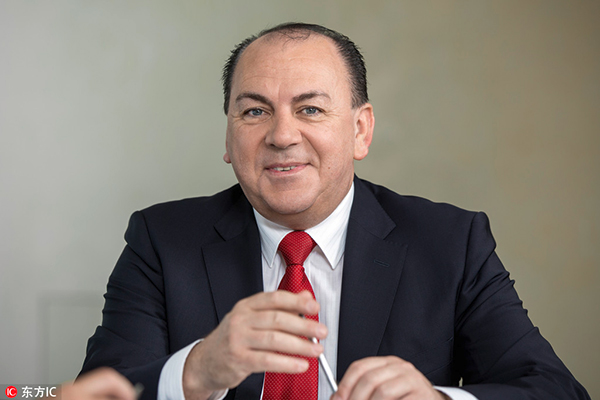 Axel Weber, chairman of Swiss bank UBS. [Photo/IC]
BEIJING - Chairman of Swiss bank UBS Axel Weber has said that globalization is suffering setbacks, but China is capable of making up for the negative impact on its growth by using more domestic fiscal and monetary stimulus.
"Globalization never happened in a straight line. There are periods of strong global integration, and there are periods when there are some setbacks or very muted development," Weber, chairman of the Board of Director of UBS Group AG, told Xinhua on Thursday.
Given Britain's exit from the European Union and US President-elect Donald Trump's anti-globalization stance, Weber believed that a slowdown in the development of globalization will be seen for the next couple of years, possibly for the rest of this decade.
Trump has said on many occasions that he will pull the United States out of the Trans-Pacific Treaty (TPP) after he takes office and renegotiate the North American Free Trade Agreement (NAFTA).
Weber commented that the stance of the new US administration will have a serious impact on some of the US dollar-based emerging markets such as Mexico.
"Mexico has more than 80 percent of its trade with the United States," he said, adding that a slowdown in the NAFTA agreement or renegotiation will largely affect those very export-oriented, US-focused countries.
However, he expressed optimism in China's capabilities to deal with the rising US trade protectionism.
"Our expectation is that should there be some tariffs, or should there be a less dynamic trade relationship between China and the United States, the Chinese authorities will make up for that negative impact on growth by using more domestic fiscal and monetary stimulus to basically keep continuous growth at current levels," he said.
Weber said he did not expect massive changes in the China-US trade and economic relationship under Trump's administration.
"We've heard many announcements during the election campaign...but first and foremost, Chinese exports to America do benefit the American consumers. And it would have a negative impact on American consumers if there were sizable trade restrictions," he said.
Meanwhile, Weber pointed out that many European companies are focusing their growth strategies in or onto the Chinese market. "If there's a retreat or some setbacks in China-US relationships, I expect that the European-Chinese relationships will continue to be strong."
While offering his insights on the global economic situation in the new year, Weber said that 2016 was a year of surprises, and 2017 will not be much different as there are many areas where political uncertainties could lead to surprising outcomes.
Weber believed that such uncertainties would have a negative impact on global growth because authorities would then shift their focus from economic recovery to international security and geo-political issues.
"Markets are very good at pricing risk, hedging it and trading it, but markets are not good at predicting political outcomes or the economic consequence of political decisions," Weber said.
"We should be prepared for volatile markets and for surprises in 2017," he added.