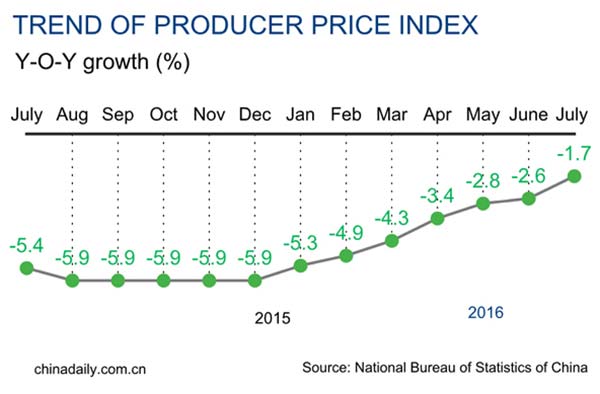 BEIJING - China's producer price index (PPI), which measures costs for goods at the factory gate, dropped 1.7 percent year on year in July, the National Bureau of Statistics (NBS) said Tuesday.
The PPI decline narrowed from a 2.6-percent decrease in June thanks to stronger industrial product prices for nonferrous metal smelting and rolling, ferrous metal ore mining, and ferrous metal melting and rolling, the NBS said in an online statement.
However, the July reading continued a 52-month decline streak as China's economic slowdown and industrial overcapacity dampened prices.
On a month-on-month basis, July's PPI edged up 0.2 percent.
The PPI figures came along with the release of the consumer price index, which rose 1.8 percent year on year in July, slowing from 1.9 percent in June.