Decline of 15.2% seen in the first 10 months, with overseas consumption partly to blame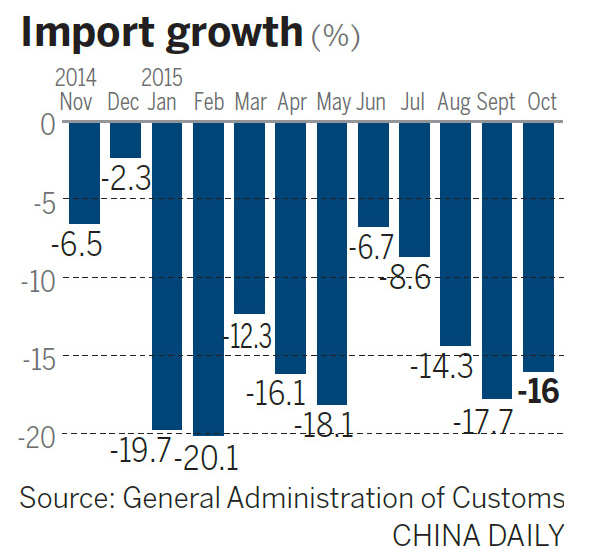 A sharp downturn in imports in the first 10 months of the year highlights the need to streamline regulation, trade specialists said on Sunday.
Imports from January to October fell by 15.2 percent year-on-year to 8.47 trillion yuan ($1.33 trillion), while Chinese tourists' overseas consumption grew at an annual rate of 25 percent from 2005 to last year.
According to the General Administration of Customs, China's total foreign trade-imports and exports-fell by 9 percent year-on-year to 2.06 trillion yuan in October, compared with a contraction of 8.8 percent the previous month.
It was the eighth consecutive month that trade had declined in the country.
The trade surplus widened by 75.3 percent to 2.99 trillion yuan, because of particularly weak imports.
Experts called for more effective measures to boost the domestic market and China's imports.
Zhang Jianping, director of the International Economic Cooperation Institute at the National Development and Reform Commission, said growing incomes, a stable yuan exchange rate, good services and simplified travel restrictions have attracted more Chinese consumers to stores and websites.
As many as 100 million Chinese travel abroad annually, spending more than 1 trillion yuan on their trips and accounting for 10 percent of global overseas consumption, according to the Ministry of Commerce.