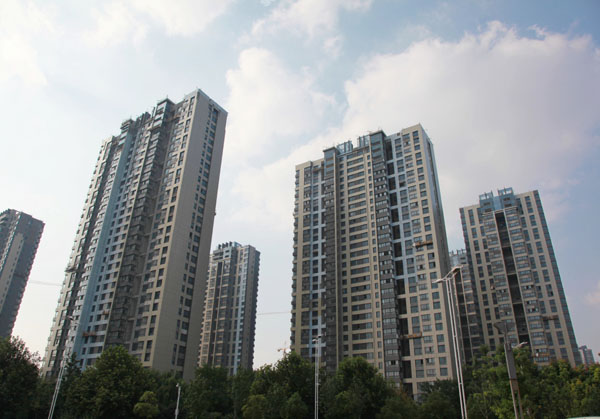 A housing project in Nanjing, capital of East China's Jiangsu province, Sept 21, 2014. [Photo/Asianewsphoto]
BEIJING - China's real estate market continued to weaken but with narrowing price drops in March, leaving analysts to expect a further rebound with new relaxed mortgage rules.
Of 70 large and medium-sized cities surveyed, the number that saw new home prices dip on a monthly basis in March stood at 50, 16 fewer than in February, the National Bureau of Statistics (NBS) said on Saturday.
For existing homes, 48 cities saw month-on-month price declines in March. That was 13 fewer than in February, and the number of cities reporting price increases rose to 12 from five in February.
In March, new home prices in Beijing grew 0.3 percent month on month, and existing home prices in Beijing and Shenzhen both rose 0.5 percent, respectively.
Along with weak prices, the home sales volume surged 65.9 percent to 270,000 units in March from the previous month, according to the NBS.
"The effect of the week-long Spring Festival holiday, which caused an anemic sales volume has disappeared," said NBS senior statistician Liu Jianwei.
Chinese authorities on March 30 decided to relax mortgage rules for second home buyers to address demand for better housing and lift the sagging property market.
Minimum down payment levels for second home buyers will generally be lowered to 40 percent from the current 60 to 70 percent, and minimum down payments for second home buyers using public housing funds will be cut to 30 percent from the current 60 percent.
For first home buyers using public housing funds, the minimum down payment will be reduced to 20 percent of the home's value, down from the current 30 percent.
"The new policy will further stimulate sales," said Liu.