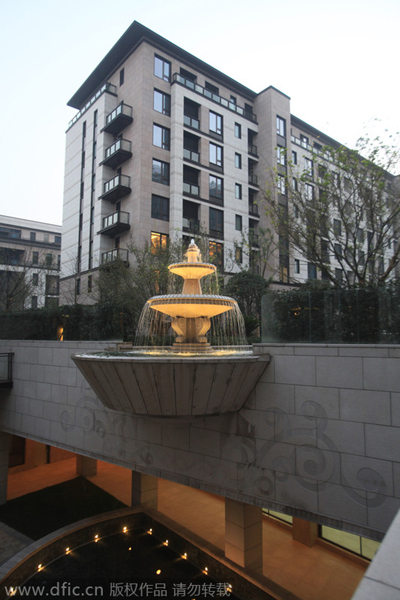 A high-end residential area in Shanghai Nov 20, 2010. [Photo/IC]
SHANGHAI -- Luxury properties are making a comeback in China's first-tier cities as eased property curbs have prompted developers to launch new residential complexes for March sale.
In China, March usually witnesses a surge in home sales after a subdued market during the first two months, as people postpone buying before and during the Lunar New Year, which fell on Feb. 19 this year.
More than 246,000 homes were sold in January across the 54 major Chinese cities monitored by real estate service firm Centaline Group, down 20 percent from a month ago. The drop is steeper in first-tier cities, at 30 percent.
But a flurry of luxury homes is leading an across-the-board surge of new home supply in China's housing market. According to real estate information service firm Soufang, more than 4,000 new homes will hit the Shanghai market in March. In Guangzhou, capital of south China's Guangdong Province, the number of new homes hitting the market rose to a 12-week-high of 4,238 in the week ahead of the Lunar New Year.
Though home prices in the country's 70 large and medium-sized cities monitored by the National Bureau of Statistics extended a downward trend in January, those in first-tier cities are holding up well.
Prices in southern metropolises Guangzhou and Shenzhen edged up 0.2 and 0.3 percent in January. Prices in Shanghai stayed flat, while those in Chinese capital Beijing were pared less than 0.2 percent in the same period.
A development in which homes are priced at 145,000 yuan per sq meter became the first luxury residential complex to be approved for sale in Beijing in 2015, when regulators gave it the nod shortly before the Lunar New Year.