Beijing-Tianjin-Hebei to get tech boost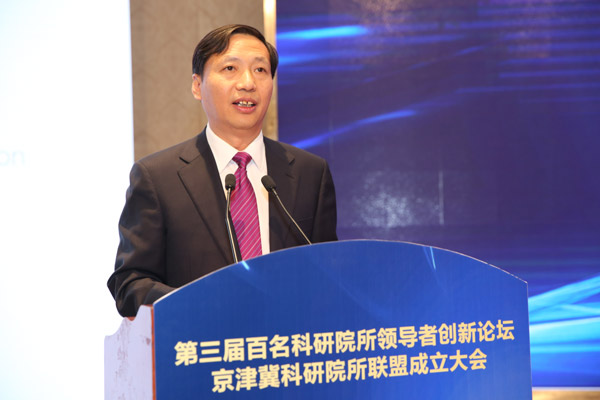 Guo Guangsheng, president of Beijing Academy of Science and Technology, delivers a speech at the launching ceremony of an alliance which aims at bringing advanced technology resources to Beijing-Tianjin-Hebei region. [Photo provided to chinadaily.com.cn]
Beijing steps up efforts to give Beijing-Tianjin-Hebei region tech boost as an alliance which aims at bringing advanced technology resources to the region was established on Thursday.
Acting as a bridge among Beijing, Tianjin, and Hebei province, the alliance will endeavor to promote technology resources to be opened and shared to the region, including Xiongan New Area, a new economic area of the country.
The new area, about 100 kilometers southwest of Beijing, is designed to facilitate the coordinated development of Beijing, Tianjin, and Hebei province.
According to Beijing Academy of Science and Technology, one of the main initiators of the alliance, the newly established alliance will build a sharing platform as well as a coordinated and innovative database on technology resources.
Given that high-end and high-tech industries will be the main pillars in the new area, Guo Guangsheng, president of BJAST, said: "The establishment of such an alliance will be of great importance to the innovation-driven and coordinated development of Beijing-Tianjin-Hebei region."
"Members of the alliance are expected to unite and complement each other to promote the interconnection of technology resources with a hope of making new contributions to the region," he added.
The alliance will also assist the region to attract talent on innovation and entrepreneurship on a global scale. Relative funds will also be established.