China to land on Mars in 2021 despite challenges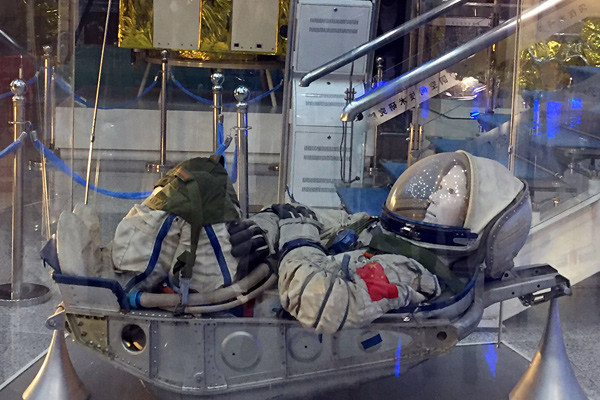 An image of an astronaut in the space capsule in the display hall at China Academy of Space Technology in Beijing, Nov 21, 2017. [Photo by Tan Xinyu/chinadaily.com.cn]
Editor's note: The article is part of a program to visit State-owned enterprises and better understand their study and implementation of the report delivered by Xi Jinping, general secretary of the Central Committee of the Communist Party of China, at the opening of the 19th CPC National Congress. And the second stop is China Academy of Space Technology on Tuesday.
Landing spacecraft on Mars is full of complexities, with generally a less than 40 percent success rate in the world, Lin Yiming, senior vice-president of China Academy of Space Technology, said Tuesday.
However, China plans to land Chinese spacecraft on Mars in 2021 to have a closer look at the planet, he added.
In addition to this plan, Xie Jun, chief engineer for the third-generation Beidou satellites at the academy, said that the third-generation Beidou satellite must remain China-made to ensure the project won't be delayed due to lacks of parts made abroad.
On Nov 5, the first two third-generation Beidou satellites were launched atop a Long March 3B carrier rocket from Xichang Satellite Launch Center in Sichuan province, marking the beginning of its global coverage.
Beidou is the world's fourth navigation satellite system, following GPS in the United States, GLONASS in Russia and Galileo in the European Union.
According to Xie, China will launch 18 third-generation Beidou satellites into space to offer navigation services to countries involved in the Belt and Road Initiative. And the whole global network is planned to be completed based on 35 satellites before the end of 2020.
The China-proposed initiative comprises the Silk Road Economic Belt and the 21st Century Maritime Silk Road, which aim to build trade and infrastructure networks connecting Asia with Europe and Africa on and beyond the ancient Silk Road routes.
Meanwhile, Xie also said that there is much work to be done in terms of improving signal services and product quality as well as popularizing Beidou-matched ground devices.
Established in 1968,the academy is the birthplace of many "firsts" in space, such as China's first artificial earth satellite, first manned spacecraft and first lunar probe. And its first president is Qian Xuesen, father of China's rocket and satellite development.
Over recent decades, China has made progress in space development, from artificial earth satellites and cargo spacecraft to space labs. Let's take a close look at some of their models and real objects at the display hall at CAST.