Sports teacher becomes micro-carving master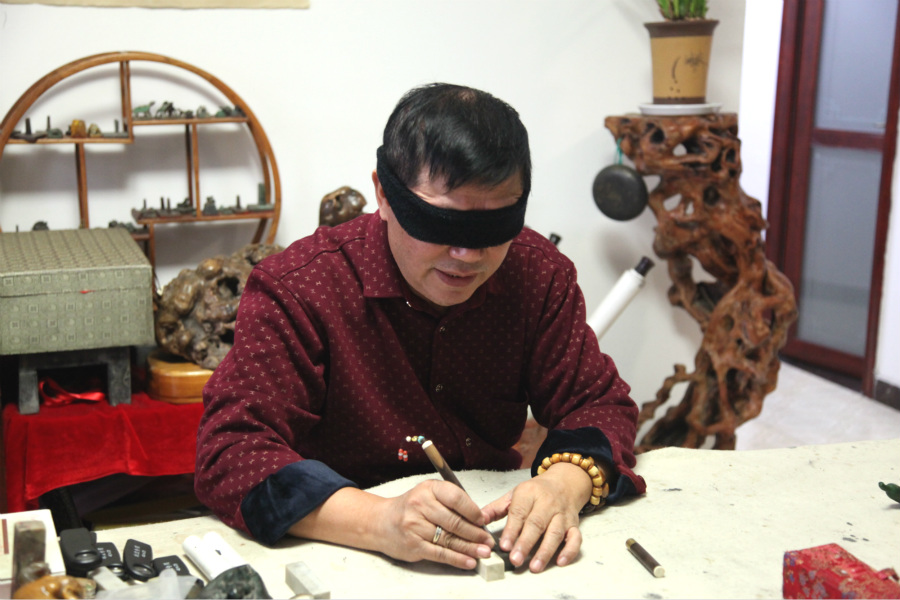 Micro-carving master Pan Qihui engraves Chinese characters on a stone with his eyes blindfolded at his studio in Chongqing, Nov 16, 2017. [Photo by Zhu Lingqing/chinadaily.com.cn]
Editor's note: The "Chinese Dream • Craftsman of Great Powers" campaign is carried out jointly by the Cyberspace Administration of China and the All-China Federation of Trade Unions with participation from central news websites, local key news websites and major commercial websites. The activity, aimed at an in-depth studying, promoting and implementing the spirit of the 19th National Congress of the Communist Party of China, carries forward the model worker spirit and craftsman spirit. It creates a social conduct of honoring work and an ethos of respecting professional dedication as reporters tell the stories of typical grassroots craftsmen.
In Pan Qihui's studio, an ordinary apartment hidden in a residential building in Bishan district, Southwest China's Chongqing, micro-engraved works created by him can be seen everywhere.
Among them, a set of six pieces of ivory carvings stands out.
While the engravings on the ivory look like dense black gunk in people's eyes, with a magnifier, the secret of this artwork reveals that there are more than 300 ancient poems totaling 12,000 Chinese characters engraved on the ivory that only has an area of 99 square centimeters.
All of these Chinese characters were engraved in a calligraphy way.
Pan, who started studying the craft of micro-carving in early 1980s, has become such a master in this field that he can engrave 20,000 Chinese characters per sq cm.
His ivory micro-carving, Riverside Scene at Qingming Festival, one of the most renowned pieces of art from ancient China, has been collected by the National Museum.
In addition, the UNESCO awarded him the title of the international arts and crafts artist because of his micro-carving artworks of one hundred of ancient Chinese calligraphy and paintings.
Last year, Pan was elected as one of the 10 craftsmen to represent Chongqing's craftsman spirit.
From sports teacher to micro-carving master
Born in 1949, Pan was once a physical education teacher.
"I was passionate about writing brush calligraphy and painting when I was young. Although my work and hobbies were far apart, I never thought about giving up my hobbies," Pan said on Friday at his studio.
He also had an interest in collecting stamps and ancient coins at that time.
However, since he got a glance at the micro-carving artworks at an exhibition in 1980s, he decided to study it.
"In 1986, I wrote one hundred letters to my 100 pen pals who enjoyed collecting stamps or ancient coins as I did at that time, to tell them I had decided to spend 10 years on studying micro-craving and promised to send every one of them a micro-craving work once I master the art," Pan recalled.
Since then, Pan has studied from two mentors and practiced every night after work.
With his talent and hard work, it only took him five years to achieve his goal.
"Every night after having dinner, I started using a knife to carve on a toothbrush. During the daytime, I also carried the knife and toothbrush with me to make sure that I practiced during breaks."
Although Pan has already achieved many honors, he still practices a lot and trains hard.
"I have set a goal for myself that I have to create one extremely exquisite work every year," Pan said.
Among all of his works, Pan appreciates a mini pipa (a four-stringed Chinese plucked instrument) made of spun gold and ivory most.
"I engraved the 630-characters Song of The Pipa Player, a classic poem written by Bai Juyi, a famous poet who lived during the Tang Dynasty, on the four hair-thick spun gold strings."
Living a life of self-discipline
To ensure his hands remain stable, Pan has been living a healthy and self-disciplined life.
"I quit smoking and only drink a little bit alcohol on special occasions," Pan said.
"I used to think I could not do the micro-craving once I turned 65, but now at 68, I still feel capable. The age of 75 will be my next retirement time."
Now having 13 apprentices, Pan wants to pass his craftsmanship to the next generation.
"To be my appprentice, you should be nice and honest and have already mastered the fundamental skills of calligraphy and painting."
Pan said:" Creation takes a lot of time and it needs inspiration, only people who have a lot of patience and tolerance for solitude can walk on the road of art."
"I love micro-craving and there is nothing I could not give up for it."
The charm of micro-craving is "seeing a world in a grain of sand, seeing craft in a tiny piece," Pan said.