Mini karaoke booth biz creates social buzz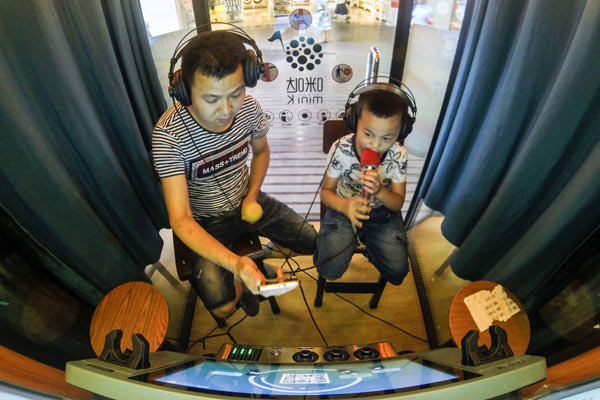 Customers sing at the mini karaoke booths in the basement of the Tianfu Square in Chengdu, capital of Sichuan province. There are four such mini booths here. It will cost 80 yuan ($11.6) for an hour of singing. [Photo by Hao Fei/For China Daily]
Walking around the shopping malls of Beijing, you will find a throng of glass-enclosed mini karaoke booths covering just 2 square meters, in which people indulge in their love of singing without blasting out loud music.
The booth houses a karaoke machine with a large touch screen, two barstools, two pairs of headsets and two microphones.
Equipped with everything singers need in a KTV room, the new booth can be paid for online using apps such as WeChat and Alipay, and will automatically send the saved recordings to users, enabling them to share them on social networking platforms.
Luo Anwu, founder of U-sing mini karaoke, said in a recent interview with NetEase Inc's tech news channel tech 163.com that the karaoke booth catered to people's increasing need for entertainment.
"Our U-sing mini karaoke offers consumers a place to sing while socializing with their friends or other singers online."
From Beijing to Shenzhen, mini karaoke houses are being rolled out in shopping malls, cinemas, restaurants and even tourist spots in an effort to win back the past glory of KTV bars, which dominated the entertainment market from the early 2000s to early 2010s.
Having received 60 million yuan ($8.72 million) in its latest round of financing, U-sing provides services in more than 100 cities. It is expected that the company will provide over 30,000 karaoke booths nationwide by 2017-end, according to Luo.
Other competitors, such as WOW mini KTV and Minik, are seeking to get in on the act, depositing thousands of mini karaoke booths in high-foot traffic venues nationwide.
Lei Yifeng, WOW mini KTV's product director, said the new mini booths bring convenience for karaoke lovers and provide a specific place for enjoying private time.
It is WOW mini KTV's mission to "offer a convenient place for entertainment when customers wait for movies or food in a popular restaurant", he said.
"I predict that the China mini karaoke market will grow to over one million houses in three to five years," said Lei, as the firm has more than 3,000 entertainment units across almost 100 cities in China, and plans to expand to 100,000 units by the end of 2017.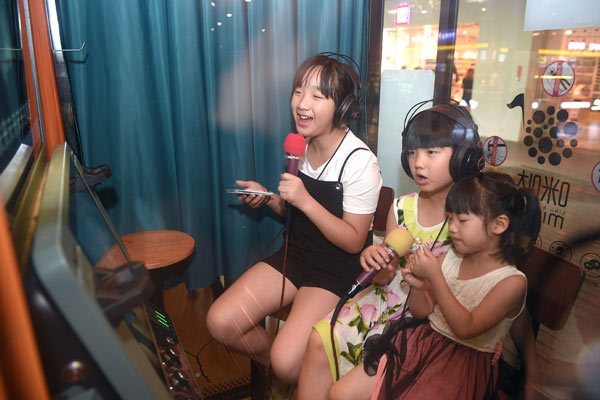 Customers sing at the mini karaoke booths in the basement of the Tianfu Square in Chengdu, capital of Sichuan province. There are four such mini booths here. It will cost 80 yuan ($11.6) for an hour of singing. [Photo by Hao Fei/For China Daily]
Nan Jiang, 27, a doctorate student at Beijing-based Beihang University is a karaoke lover who tried the new self-service entertainment booths.
"Generally, a standard mini karaoke booth will cost me 60 yuan per hour. I also can choose singing for only 15 minutes just before seeing movies. It is really convenient. And I really love the recording function.
In U-sing's case, users can locate and preorder the nearest two or three mini booths via its official WeChat account. WOW House and Minik currently do not offer similar services.
Dang Jianwei, lecturer at Business School at the University of International Business and Economics in Beijing, said the key for sustainable development is improving the user experiences accordingly as time changes.
"It really digs into a new market segment for karaoke lovers. But they still need to see further to maintain sustainable development. And the key lies in whether they can provide specific services for targeted consumers.
"The popularity of a particular mode, games or movies, won't last for long. Suppliers should continuously improve the products to meet consumers' real needs," Dang added. Now The mini KTV industry is taking a closer look to tackle copyright issues.
Minik, recently indicted three companies, including U-sing, for copyright infringement, asking them to stop manufacturing and selling products involved in copyright issues. And the company also called for a compensation of 160 million yuan.