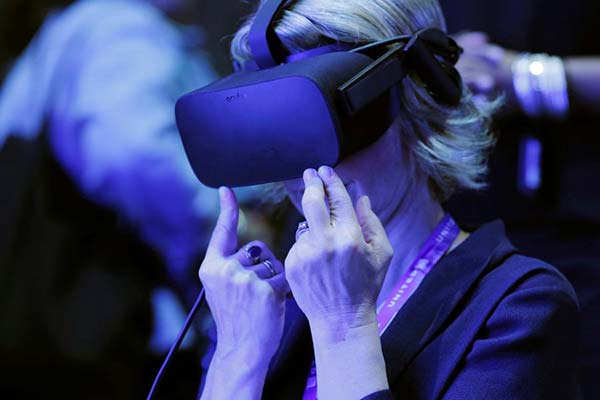 Travel journalists watch a virtual reality presentation given by United Airlines as part of their new international business class dubbed United Polaris in New York, June 2, 2016. [Photo/Agencies]
Karaoke with augmented and virtual reality technologies has great market potential in China, according to Fujian Star-net Communication Co Ltd, a local telecommunications solution provider.
"With augmented reality technologies, the singer stands in front of a green screen in the KTV lounge and the image merges into various kinds of backgrounds," said Liu Linghui, general manager of Star-net Video, the video solution unit of Fujian Star-net.
Founded in 1996, Fujian Star-net has been in the business of producing karaoke machines for more than 10 years. It has more than 60 percent of the domestic market share.
In traditional karaoke, revenue comes from providing karaoke services plus food and beverages. Now, Fujian Star-net has seen a new potential in karaoke-to incorporate AR and VR technologies into this leisure activity to make it more interactive and generate more revenue.
Data on KTV lounges using Fujian Star-net's AR solution have been brought together in one central cloud, enabling the users to share the video on social media.
The company has developed a mobile phone application called Kmi, which allows customers to make reservations, purchase drinks and food, and connect what's going on inside the KTV lounge with their friends who can't make it to the party.
"Friends outside the KTV can buy food and drinks on Kmi for people in the KTV. KTV consumption in China is 300 billion yuan ($44.89 billion) to 400 billion yuan per year. The interactive experience will stimulate even more desire for consumption," said Liu.
Kmi has about 39 million users. More than 5,000 KTV lounges have adopted the AR equipment provided by Fujian Star-net.
"The AR technology used to be only confined to expensive recording rooms, costing up to 100,000 yuan. Fujian Star-net has developed new technologies that have brought down the costs so that ordinary KTV lounges are able to realize the AR experience," said Liu.
The AR equipment for each KTV room from Fujian Star-net is around 2,000 yuan.
Fujian Star-net has been planning to implement VR experiences in the KTV lounge.
"There are three thresholds in VR application," said Liu. "The goggles need to be of high clarity so that people won't feel dizzy. The content needs to be of great variety so that the users won't feel bored. The most competitive edge lies in how to integrate the VR content with the business activities so as to retain the users' interest and generate profits."
The most popular applications of VR include video games, tourism, education and real estate, said Liu.
"The basic technologies and hardware for VR are ready. Just like the Internet Plus strategy, VR can also be a plus with a wide range of applications," said Zhao Qingping, director of the State Key Laboratory for VR technologies and systems. "Wearable devices, mobile services and big data will all need the interactive experience of VR. The sense of experiencing something that one can't possibly experience in the real world is very appealing to consumers."
A report by iiMediaResearch, a Hong Kong-based global leading mobile internet organization on third-party data mining and integrated marketing, has estimated that China's VR market value in 2016 will be 5.66 billion yuan. The number will be 55.6 billion yuan by 2020.
"At the moment, the content of VR providers is highly similar. Many VR hardware producers are going to be eliminated in the second half of 2016. More diversified content providers are needed. VR is going to be more integrated with daily lives, including entertainment and leisure, medical services, and real estate," said the report.