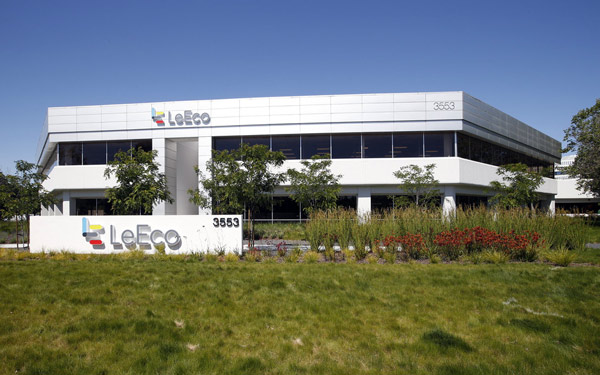 The US office grand opening ceremony of LeEco held at LeEco Headquarters, April 28, 2016, in San Jose, California. [Photo/IC]
LeVR Technology Ltd, the virtual reality arm of Beijing-based technology company LeEco Holdings Co Ltd, is reported to be undergoing a round of financing worth more than 300 million yuan ($45 million).
Shenzhen China Bridge Investment Fund, the wholly owned subsidiary of Beijing China Bridge Capital Management Co Ltd, is the lead investor in the financing. Upon completion, the value of LeVR is expected to be as much as 3 billion yuan, exceeding the 1.45 billion yuan estimated value of Beijing-based Baofeng Mojing, which is currently highest-valued VR company in China.
As the financing is yet to be finalized, LeEco refused to make any comment.
Shenzhen-listed Leshi Internet Information and Technology Corp, the publicly listed arm of LeEco, saw its price drop 0.21 percent to close at 46.9 yuan on Thursday, while the startup board ChiNext fell 0.34 percent to 2,137.49 points.
Beijing China Bridge Capital has been working closely with LeEco. Jia Yueting, LeEco's chairman and founder, transferred 100 million shares in the company to Beijing China Bridge Capital in October 2015, by which time the latter held 5.39 percent of stake in LeEco.
A special 1-billion-yuan fund led by Beijing China Bridge Capital was formed in March this year to invest in LeEco's cloud computing services. Meanwhile, the two companies set up a 10-billion-yuan acquisition fund to look for investment opportunities in companies related to LeEco's business.
LeEco, previously known as LeTV, tested the water in the VR industry in April last year when it launched a large movie-watching helmet with a very limited angle of vision. Eight months later, it released its first VR headset, Le Cool 1. Apart from hardware, it also announced it would bring VR movies, video games, education and sports broadcasting services to users in the coming years.
The Chinese VR industry has been experiencing phenomenal growth this year. Statistics provided by global market consulting firm Analysys International show that hardware, software and other related services of the VR industry in China will grow by 372.2 percent this year, with the total market value reaching 850 million yuan. The growth rate will reach 151.4 percent in 2017, while the total sales revenue will exceed 2 billion yuan.
Technology consultancy Canalys estimates that total shipments of VR headsets will reach 6.3 million units by the end of this year, of which 40 percent will be contributed by Chinese consumers.
In a survey of 6,000 Chinese consumers conducted by technology company HTC Corp in May, 19 percent of the interviewees expressed a willingness to buy VR equipment within six months, while the figure is only 12 percent in the United States.