New pipeline broadbases gas supplies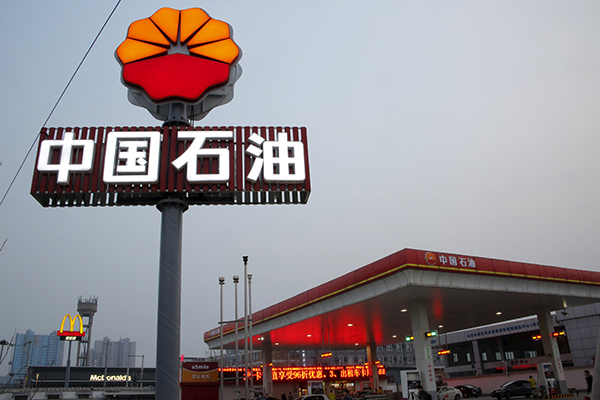 PetroChina's petrol station is pictured in Beijing, China, March 21, 2016. [Photo/Agencies]
The 1,454-km Kazakh-China link will transport 5 billion cu m annually
A new strategically important natural gas pipeline running from southern Kazakhstan to China began operating on Friday, China National Petroleum Corp said in a statement.
The company said the pipeline, which has annual installed transportation capacity of 6 billion cubic meters of gas, will help ensure diversification of the nation's gas supplies.
The 1,454 kilometer pipeline is being jointly operated by CNPC Trans-Asia Pipeline Co Ltd and Kazakhstan's state KazTransGaz-and will provide China with 5 billion cu m of natural gas each year-according to Asia's biggest oil and gas producer CNPC.
CNPC said it is a key energy project between the two countries as well as a significant part of the Central Asia-China gas pipeline, which starts at Turkmen-Uzbek border city Gedaim and runs through central Uzbekistan and southern Kazakhstan before reaching Horgos in China's Xinjiang Uygur autonomous region.
According to the State-owned CNPC, which provides more than two-thirds of the country's natural gas, the pipeline is a typical project along the Belt and Road Initiative and Kazakhstan is located in a prominent position.
Analysts said the new natural gas pipeline would further diversify China's sources of gas imports and followed the China-Russia crude oil pipeline, the China-Kazakhstan oil pipeline as well as the China-Myanmar crude oil pipeline, which started operations on Monday.
Li Li, energy research director at ICIS China, a consulting company that provides analysis of China's energy market, said there is also a chance that China might face a gas surplus.
Li said the growth of China's gas consumption had also moderated since the start of the economic slowdown.
A bonus was that the safety standards for pipeline transmissions were much higher and the project would also ensure a stable energy supply to China, she added.
A researcher at State-owned China National Petroleum Corp in November said the country could face a gas surplus of 50 billion cu m a year by 2020, due to long-term contracts for imports of liquefied natural gas and pipeline expansion plans, energy news agency Platts reported.
CNPC said the pipeline would also provide more than 2,000 jobs for locals and provide natural gas for more than 1.5 million local residents.
The start of gas flows at the southern Kazakhstan natural gas pipeline followed news that a CNPC unit specializing in oil engineering, manufacturing and construction-China Petroleum Engineering & Construction Corp-signed a contract with Russian gas giant Gazprom to take part in the construction of the Amur gas processing plant, a move to further secure domestic gas supplies.