BOC's overseas lending outgrows domestic loans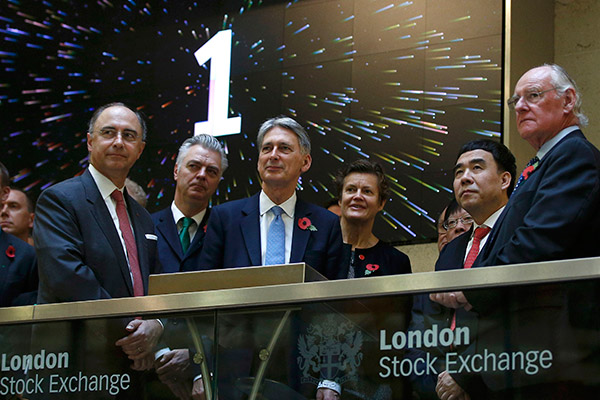 British Chancellor of the Exchequer Philip Hammond (center), Bank of China chairman Tian Guoli (second right) and London Stock Exchange Group CEO Xavier Rolet (left) open the markets for the start of trading at the London Stock Exchange on Nov 10, 2016. [Photo/Agencies]
Bank to up foreign branches' profit contribution from 30% to 40%
Bank of China Ltd's overseas corporate loan growth surpassed domestic corporate loan growth in 2016 for the first time, signaling a new stage of internationalization, according to senior executives of the bank.
Huang Danggui, general manager of BOC's corporate banking department, said at a media briefing on Tuesday that overseas corporate loan growth benefited from a solid branch layout and a sound client base in 51 countries and regions. A growing number of Chinese companies went global with mergers and acquisitions, bringing a large amount of business opportunities for the bank. At the same time, the bank also expanded its local business in other economies.
"We believe this trend will continue and the contribution of overseas business to our bank's overall business will keep increasing step by step," Huang said.
China's central bank is tightening supervision of overseas investments of Chinese companies. Central bank governor Zhou Xiaochuan told a news conference on March 10 that some overseas investments, such as investments in football clubs and the entertainment industry, were not in accordance with China's industrial policies, so it is necessary for the government to give guidance on overseas investments to a certain extent.
Huang said BOC will support overseas investments that meet China's regulations and industrial policies as well as the regulations of their destinations, plus the bank's own risk management standards.
According to statistics from the bank, during the last three years, the size of its overseas assets and loans both increased by nearly 50 percent, well above Bank of China Group's 30 percent growth. The contribution of its overseas loans to total loans rose from 19 percent to 23 percent. Currently, 62 percent of the clients at the bank's overseas institutions are locally based.
The bank supported Chinese companies in about 3,200 "going global" projects from 2009 to the end of 2016, making credit pledges worth more than $180 billion. By the end of last year, it followed up around 420 major projects along the routes of the Belt and Road Initiative, extending credit support of nearly $60 billion to relevant economies.
"We set a target to extend credit totaling $100 billion along the routes of the Belt and Road Initiative from 2015 to 2017, and we have confidence to achieve our goal," Huang said.
Currently, BOC has nearly 600 overseas branches and representative offices, the profit after tax from which exceeded 30 percent of its overall profit after tax in 2016.
Ren Li, chief manager of the bank's human resources department, said: "Our medium and long-term target is to increase that proportion to 40 percent."
"We are good at building connections between our domestic and international markets and clients," she added.