Huawei, Erasmus University sign MoU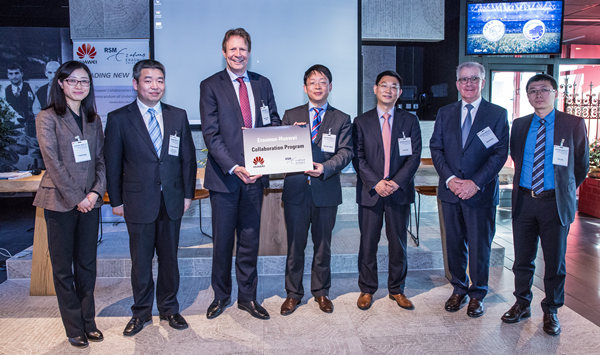 China's telecommunication giant Huawei has entered into an agreement with Rotterdam School of Management, Erasmus University (RSM) to deepen cooperation on the digital transformation of the education sector. Both sides signed a Memorandum of Understanding (MOU) on Thursday. Provided to China Daily
China's telecommunication giant Huawei has entered into agreement with the Rotterdam School of Management, Erasmus University (RSM) to deepen cooperation on the digital transformation of the education sector.
Both sides signed a Memorandum of Understanding (MoU) on Thursday in the presence of the RSM advisory board and officials of Chinese embassy at the Amsterdam ArenA, a technology partner of Huawei. The MoU will continue until September 2019.
The project, headed by Zhang Ying, associate dean of China Business and Relations at RSM, represents a collaboration between the industry and the education sectors in China and Europe, helping industries, education institutes and research bodies move into the era of digital transformation.
Both parties aim to facilitate knowledge sharing between technology, innovation, business development and education in order to add value to the local social-economic community and academic-practice by means of joint research, China-EU relevant business relationships, and applied projects.
Wonder Wang, CEO of Huawei Technologies Netherlands, said Huawei is committed to investing in Europe, and the MOU is part of the company's mission to aid in talent development across Europe.
"The goal is to achieve local employment to contribute to the European economy and serve European industries for generations to come," said Wang.
Steef van de Velde, dean of RSM, said the objective of the collaboration between RSM and Huawei is to add value to the local social-economic community and academic-practice collaboration.
"We will do this by means of joint research, EU-China economic relationships, applied projects (such as a technology-business program) , as well as for the fourth generation of industrial revolution derived from data technology transformation," said van de Velde.
Van de Velde said for business education institutions like his school, this collaboration is strategically important as it takes three levels of collaboration to explore: on smart education, innovation research and culture exchange.