Citibank fully behind China's 'going out' strategy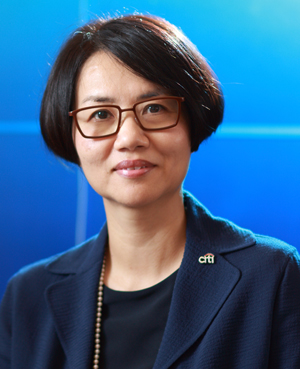 Christine Lam, Chief Executive Officer of Citi China [Photo provided to chinadaily.com.cn]
Q: What do you think of China's economic growth target at roughly 6.5% for 2017 amid the sluggish recovery of the global economy?What business opportunities do you see from sectors such as services, manufacturing and mining, which will be open wider to foreign investment?
A: As the external environment remains uncertain and volatile, the 6.5 percent economic growth target comes as no surprise -- although this is still unmatched when compared to many developed economies today.
We already know from December's Central Economic Work Conference that 2017 will be a year that will place even greater emphasis on reforms, structural adjustment and risk prevention in order to achieve progress while maintaining stability.
While China continues to transition to an economy driven more by consumption and innovation, we believe the recent liberalization of China's FDI will help drive forward a number of sectors, including traditional industries as they transform and upgrade through innovation. Emerging industries will also benefit, which will help further drive a service-led economy. For a market that is as big and strategically important as China's, it is vital to achieve long-term sustainable growth.
Q: How do you assess the role of the Chinese market in your global business strategy? What are your views on China's efforts and more preferential policies to further attract foreign investment? Do you plan to increase investment or expand your presence in the Chinese market this year?
A: We are a global bank and what sets us apart is the unique network we have that connects not only people but also expertise across hundreds of countries and cities. For us, China is a priority market. As China continues to push forward its 'Going Out' strategy, including the Belt and Road Initiative -- our global network is fully supportive and we are proud to see the growing number of strategically important projects emanating from here.
Meanwhile, China's efforts to further attract foreign investment would also be crucial in advancing economic development. In particular, capital inflows can be further encouraged through opening up China's service sector and capital market to more foreign participation. Citi is committed to being a part of and supporting China's long-term sustainable development through serving a targeted and well-defined client group.
Q: What business opportunities do you see as China promotes the Belt and Road Initiative? Have you participated in or do you plan to participate in any projects under the initiative? How do you think infrastructure investment can contribute to global growth?
A: The Belt and Road Initiative has the potential to further boost bilateral trade between two dynamic economic regions -- China and the ASEAN. We are a global bank with deep understanding and experience in local markets worldwide. One of our core competencies going back more than 200 years is to support our clients as they expand internationally. Today, we have set up a number of China Desks in key regions outside of China -- including areas within the Belt and Road region – in order to support Chinese companies' banking needs worldwide.
Q: China will continue to carry out supply-side reforms this year. What do these reforms mean for your business and how will you adjust your business strategy in China accordingly?
A: Our banking analysts have found supply-side reform has led to a significant drop in non-performing loans for over-capacity sectors, however, as China is continuously moving away from a capital-intensive, export-led growth model, a balanced progress is key to long-term sustainable growth. Like any company, our strategy will evolve as China's economic priorities shift, but we remain focused on leveraging our global network, strong product capability and local insights to serve a well-defined set of target customers to whom we can add most value.
Q: What is your opinion of China's effort to upgrade its manufacturing capabilities and boost innovation? Will China's innovation-driven campaign spur the vitality and competitiveness of the economy? 
A: As mentioned, transforming traditional industries such as manufacturing through innovation is critical as China continues to drive forward its efforts to transform into a consumption and innovation-led growth model. I believe innovation is the key to driving economic growth and job creation not only in here but worldwide. What is interesting is China's contributions in certain areas of innovation including e-commerce and Fintech. With China's digital economy continually surging ahead alongside ongoing emphasis to provide policies that can cultivate a conducive environment to innovate, I am confident that China's innovation will play an important role in not only driving the local economy but promote market changes that help the world reimagine the digital possibilities.