China consumer inflation eases to 0.8% in Feb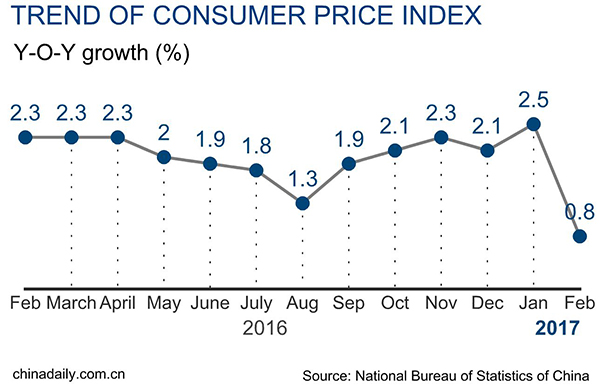 BEIJING - China's consumer inflation eased sharply in February after price distortions created by the festival season faded, leaving the central bank with leeway on interest rate policy.
The consumer price index (CPI), a main gauge of inflation, advanced 0.8 percent year on year in February, the National Bureau of Statistics (NBS) said Thursday.
It was well below market expectation of 1.7 percent, and substantially lower than the growth of 2.5 percent in January. On a monthly basis, the CPI declined 0.2 percent.
The NBS attributed the weakening CPI to sharply lowering food prices, which fell 4.3 percent in February. Food prices surged 27 percent in January when the festival shopping spree drove up prices.
"As the travel season has ended, the number of tourists declined in February, bringing down the costs of tourist services, which partly explains the lower CPI," the NBS said.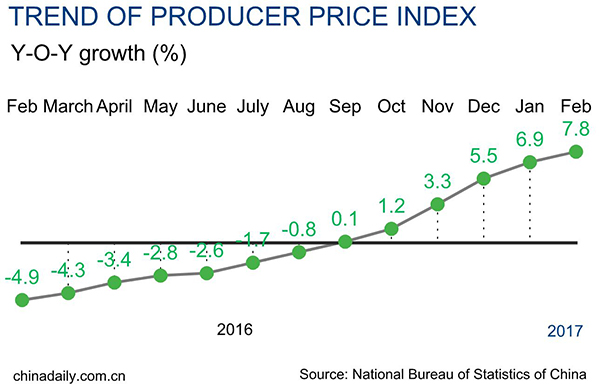 China's producer price index (PPI), which measures costs of goods at the factory gate, rose 7.8 percent year on year in February, increasing from 6.9 percent in January.
The PPI hit its highest level since 2008, largely as a result of government measures to trim excessive industrial capacity. The index is likely to fall as capacity reduction continues.
China has set its GDP growth target for around 6.5 percent for 2017, compared with a target range of 6.5 to 7 percent last year. It is aiming to keep the CPI increase at around 3 percent.
"Considering our sound economic fundamentals and the capacity they bring for job creation, this target is attainable with hard work," Premier Li Keqiang said in the government work report delivered to the annual legislative meeting.