Revenues drop for under pressure Lotte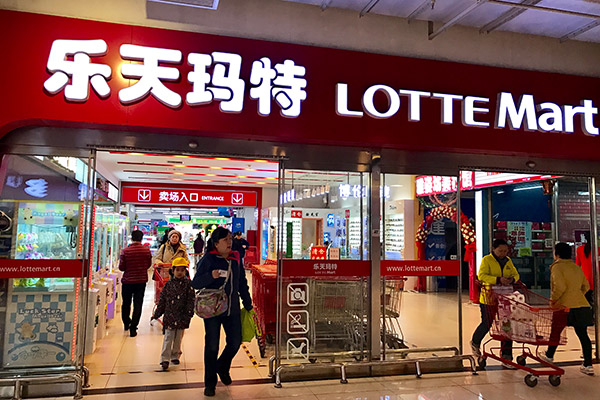 A Lotte Mart in Beijing, Feb 28, 2017. [Photo/China Daily]
South Korea's Lotte Group has suffered from sluggish growth in its retail business in China, analysts said.
Revenues of Lotte Group's hypermarkets sector slipped by 2 percent to 2,516 billion South Korean Won ($2.2 billion), as a result of its mediocre performance in China, according to its annual report released last month.
The group saw its same store sale growth in China decline by 14 percent in 2016 while its overall global sale growth slowed by 3.8 percent despite the growth in Indonesia and Vietnam.
Lotte Group has planned to close three retail stores in China in 2017 due to declining performance in 2016, the South Korean conglomerate said earlier.
Jason Yu, general manager of market research firm Kantar Worldpanel China, said: "Merely a regional player, Lotte hardly could compete with international or domestic retail giants in terms of scale. Lotte, which has no less than 1 percent of market share, has limited advantages in terms of merchandise, prices and shopping experience. It will also be under pressure from e-commerce where many South Korean brands can be bought online."
Lotte has 174 overseas hypermarket outlets and 115 of them are in China.
Zhao Ping, deputy director of the Chinese Academy of International Trade and Economic Cooperation, under the Ministry of Commerce, said: "Lotte's entry into China was mistimed. It came after other foreign retail giants such as Carrefour were expanding and occupying the market share in China. As a latecomer, most of its stores are located on the outskirts of cities, and the brand identity is not very familiar to consumers."
The unconventional locations and the lack of a brand identity have led to a drop off in consumer loyalty, Zhao added.
Yang Wenli, a 28-year-old economics researcher at a university in Beijing, said: "I have only been to Lotte's department store and duty-free shop in Seoul. But I have never shopped in its supermarket in Beijing, because I didn't know it existed here. Also, local brands such as Wumart can meet all my daily needs."
A Lotte supermarket in Beijing was fined 44,000 yuan ($6,400) by the Beijing Municipal Administration for Industry and Commerce for posting illegal advertising, Chinese media reported on Tuesday.
Since its first entry into the Chinese market in 1994, the Lotte Group has invested 60 billion yuan but it did not pay off as it expected.