State Grid to own 100% of CPFL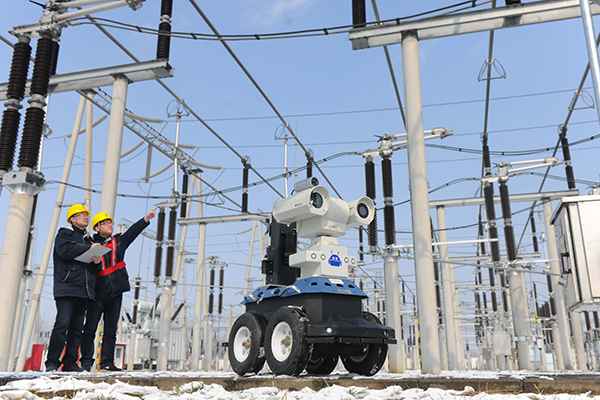 A robot helps check power transmission facilities in Quanjiao county, Anhui province. [Photo/China Daily]
Move expected to result in more business and higher exposure in South America
The State Grid Corp of China - the world's biggest utility company by revenue - said it will launch a tender offer to buy the remaining shares it does not already own in CPFL Energia SA, the Brazilian power group said in a securities filing.
The State Grid said on Thursday it would pay 25.51 reais ($8.35) per share for the balance in CPFL.
The latest move comes after the Chinese company last month acquired a controlling 54.64 percent stake in CPFL Energia and its subsidiary, CPFL Energias Renovaveis SA, for 17.36 billion reais ($5.68 billion).
According to the filing issued by CPFL, the largest power distributor in Brazil, the State Grid plans to delist CPFL from the New York and Sao Paulo stock exchanges.
Bloomberg Intelligence senior analyst Joseph Jacobelli said with the purchase, the State Grid would enjoy better synergies overall with more business and exposure in Brazil.
The State Grid did not reply to questions about the buyout, but said when taking the controlling stake, the deal would further extend its business to power transmission, distribution, new energy power generation and electricity sales.
It said last month that the acquisition would help it to introduce its new energy power generation technology and management experience in the South American country.
Now running most of the country's electricity distribution network, the State Grid has other projects in Brazil as well.
It earlier landed ultra high-voltage electricity transmission projects in Brazil, planning to build transmission lines from the huge Belo Monte hydroelectric dam in the Amazon area to the populous center-south region.
The first phase of the Belo Monte UHV DC Transmission Project is expected to start commercial operations by February 2018, Li Lequan, deputy director of State Grid International Development Co Ltd, SGCC's subsidiary for global operations, said earlier during a news conference.
Brazil's power sector is undergoing a wave of consolidation as several companies struggle financially amid Brazil's economic recession since middle 2014.