State Grid scales up charging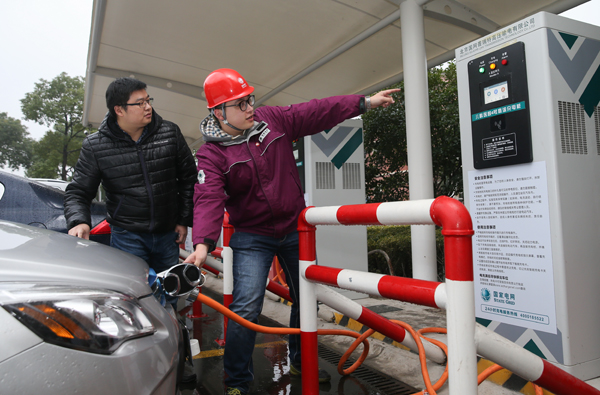 An employee of State Grid Corp of China helps a driver to charge his electric car in Shanghai. The utility company said it plans to build 29,000 charging stations this year alone in the country. [Photo/Xiinhua]
Nation's power giant to build a further 29,000 facilities this year
State Grid Corp of China plans to build 10,000 charging stations and 120,000 charging units by 2020 to further expand public fast-charge networks for electric vehicles.
The company will expand its public fast-charge networks in major Chinese cities, including Beijing, Shanghai and Hangzhou, so that users can find a charging facility within a close radius, according to Shu Yinbiao, chairman of State Grid.
The nation's electric power giant said it plans to build 29,000 charging stations this year alone, a slight increase compared with 22,000 in 2016.
According to State Grid, the company has come up with more than 40,000 charging stations in 2016, which were used 12.32 million times.
By 2015, State Grid had built fast-charge networks covering 11,000 kilometers of highways and it will further expand the networks to cover another 36,000 kilometers by 2020.
According to the 13th Five-Year Plan (2016-20), the country will build a nationwide charging-station network that will fulfill the power demand of 5 million electric vehicles by 2020.
The environment would be better if electric cars dominate the roads, thus driving down the consumption of fossil fuel. However, one big issue among electric-vehicle driver is how and where to recharge their cars.
The new energy vehicle industry is developing rapidly and the charging facilities play a significant role, said Xu Yanhua, deputy secretary-general of the China Association of Automobile Manufacturers.
In response to the central government's call to grant the market a bigger role in allocating resources, State Grid has, since 2014, invited private investors to build charging stations for e-cars and will invite for bids for six batches of charging stations this year.
The open tender is meant to better beef up the neighborhood and public charging infrastructure facilities construction, it said.
According to the Ministry of Industry and Information Technology, China will quadruple its new energy vehicle output to 2 million by 2020.
In 2016, China produced 517,000 new energy vehicles. The country has been the world's top seller of such environmentally friendly cars, including battery electric cars, plug-in hybrids and fuel-cell cars, since 2015. The cumulative sales have exceeded 1 million, according to the ministry.
More than 100,000 public charging units were built in China in 2016, tenfold the figure in 2015. A comprehensive charging grid has taken shape in big cities such as Beijing, Shanghai, and Shenzhen.
Zheng Shanjie, deputy head of the National Energy Administration, said the country will come up with another 800,000 public charging stations this year.