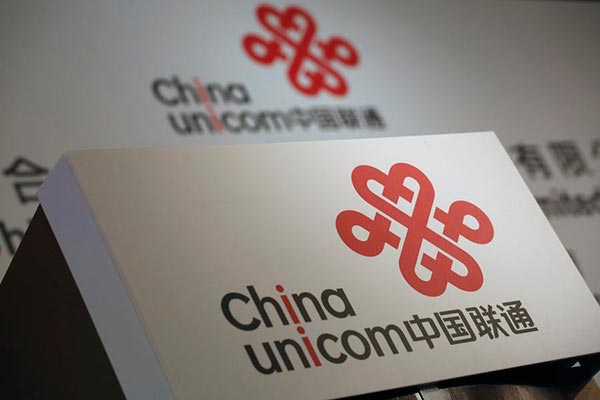 Company logos of China Unicom are displayed at a news conference during the company's announcement of its annual results in Hong Kong, China, March 16, 2016.[Photo/Agencies]
China Unicom Hong Kong Ltd said it expected to report on Friday an 80 percent slide in its profit for the nine months through September, due partly to higher selling and marketing expenses.
In a statement to the Hong Kong Stock Exchange on Tuesday, mainland's second-largest telecom service provider forecast its nine-month profit at 1.6 billion yuan ($240 million), down 80.6 percent from a year earlier.
First half profit had plunged 80 percent to a 16-year low after racking up heavy expenses marketing its fourth-generation (4G) network.
China's top three telecom operators-China Mobile, China Unicom and China Telecom-are competing to capture Chinese users as they migrate to 4G from 2G and 3G.
China Unicom, whose 4G subscribers accounted for 28 percent of China's total by the end of June, is likely to continue to face heavy marketing costs that will weigh on profits, analysts said.
"The company is still in the stage of trying to gain market share. Its operating leverage is very high, profit margin very low, so any increase in cost results in great fluctuation in profit," said Nomura analyst Joel Ying.
"Competition among the service providers is only more fierce in the second half now that China Unicom and China Telecom have basically completed their 4G networks," he added.
China Unicom said it expects its number of 4G subscribers to double to 88.9 million in the first three quarters of the year.
It announced earlier this month its State-owned parent company could be chosen for China's first pilot for mixed-ownership reform pending government approval, which could introduce private shareholders and more management autonomy.
REUTERS