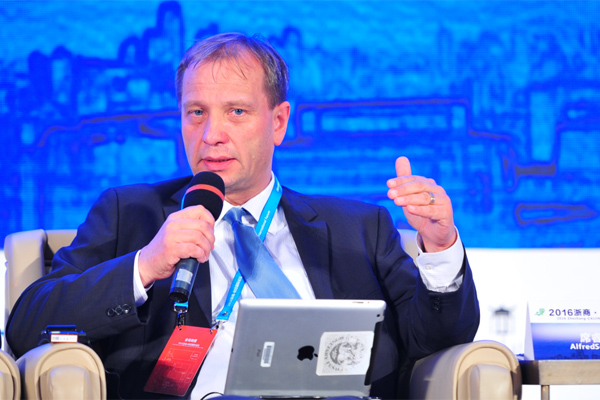 Alfred Schipke, the IMF Senior Resident Representative for China, speaks at Zheshang Caijing Forum in Hangzhou, Zhejiang province on October 14. [Photo provided to China Daily]
Debt-to-equity swaps programs manifest the central government's commitment to dealing with a huge pile up in cooperate debt, but positive incentives are needed at local levels to prevent implementation risks, an IMF senior official said.
"The release of guidelines means that the central government, at the highest level, has realized the risks posed by rising debt issues," said Alfred Schipke, the IMF Senior Resident Representative for China, in an exclusive interview with China Daily.
Schipke made this comment after the State Council, the nation's cabinet, released its first major guidelines earlier this month, after the government-led debt-to-equity swaps programs were launched 17 years ago.
Schipke expected the measures would "do to help" reduce the risks, after top leadership has reached an agreement to use debt swaps as part of the solution to solve the corporate debt problem.
However, although the release of guidelines marks a good start, Schipke warned the challenge lies in the implementation process when it comes to local levels.
The debt-to-equity swaps programs need to be implemented under a market based approach, and only healthy companies with promising prospects are allowed to undertake the swaps process, according to the guidelines.
The debt-to-equity swaps programs would not provide free lunch to loss-making zombie factories, the guidelines said.
Despite criteria of targeted companies, "the guidelines lack a clear definition of what zombie factories are," said Schipke, adding that it may raise concerns over whether the banks would definitely not swap bad loans for debts, facing pressures from the local government.
Schipke is referring to the likelihood of how local governments would continue to keep zombie factories alive, considering job losses and social stability.
"A possible solution is to provide positive incentives for the local government, with no strict goals or targets set at local levels," he said. "The local government should be encouraged to actively make adjustments while implementing the programs."
Schipke cites the example of China's plan to spend 100 billion yuan ($15.3 billion) over the next two years to relocate workers in steel, mining and other overcapacity sectors.
"The amount can be increased if facing difficulties in the next a couple of years. It can be adjusted," he said.
"But transparency needs to be improved," he added. "That is in line of what IMF has been suggested."