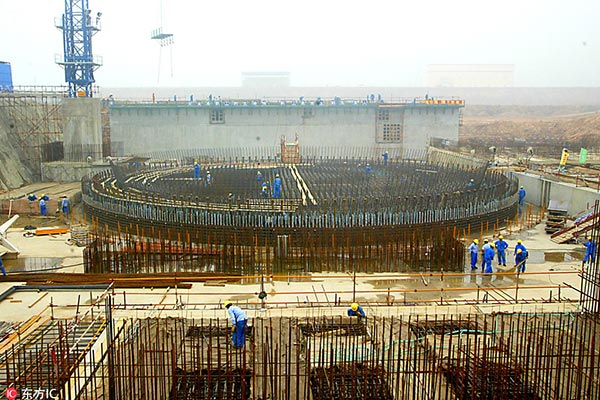 View of Hongyanhe Nuclear Power Plant under construction in Donggang township, Wafangdian city, Northeast China's Liaoning province.[Photo/IC]
Connection to grid to complete first phase of nuclear project, units 5 and 6 to come
The latest unit of the Hongyanhe nuclear plant in Liaoning province is expected to enter full commercial operations within the year after the completion of its construction, China General Nuclear Corp said on Tuesday.
Unit four will be connected to the national grid within months and the development marks the completion of the first phase of the major Hongyanhe project, CGN said.
"The project is the largest energy project in the northeastern province, which has helped optimize the energy structure and promote a low-carbon development in the region," said Liao Weiming, general manager of Liaoning Hongyanhe Nuclear Power Co Ltd.
CGN said about 75 percent of the equipment were outsourced in China, while procurement from companies in Liaoning province reached more than 3.4 billion yuan ($510 million).
Work on the first stage of the nuclear project, including four CPR1000 pressurized water reactors with a 1,118-megawatt per unit, started in August 2007.
Units one and two of the Hongyanhe nuclear project went online in 2013 and 2014, while unit three entered commercial operation last year. It is the first nuclear project in Liaoning, and will involve the construction of a total of six units.
Units five and six-the second phase of the Hongyanhe nuclear plant-started construction work in 2015, using the ACPR1000 nuclear reactor technology developed by CGN, and they are scheduled for completion in 2021.
According to CGN, once all six units are online the Hongyanhe plant will generate around 45 billion kilowatt-hours of electricity annually, avoiding the need to burn some 15 million metric tons of coal for power generation and the emissions of some 40 million tons of carbon dioxide.
Currently the first phase of the project is expected to provide about 10 billion kWh by the end of this year, but it will be able to supply more electricity to the area as the local governments roll out measures to promote the local economy.
The Hongyanhe plant is owned and operated by Liaoning Hongyanhe Nuclear Power Co, a joint venture between CGN and State Power Investment Corporation, each holding a 45 percent stake, with Dalian Municipal Construction Investment Co holding the remaining 10 percent.
China, with the world's biggest number of nuclear power plants under construction, is pushing ahead to embark on a program of new nuclear projects to reduce pollution and optimize its energy mix.
The country plans to have 58 gigawatts of nuclear power in operation by 2020 and have at least 30 gW under construction. To meet that target, China needs to add at least another 10 gW of installed capacity with approval of six to eight reactors each year.